For New Patients
Thank You for Choosing Our Practice
Every patient is unique, and we are committed to providing you with high quality, state-of-the-art periodontal and implant care based on your individual needs. Above all else, we want to make your visit to our office a pleasant experience.
What to Expect on Your First Visit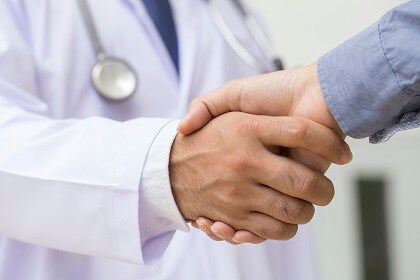 Your first visit will include the following:
An introduction to your doctor and team.
Review of your dental and medical history
Review of your dental x-rays and/or taking new x-rays or a 3D image as required
An examination focusing on your presenting needs and/or concerns
We will discuss our findings and answer any questions you may have about treatment. Our goal is to help you come to an informed decision regarding your care.
What to Bring on Your First Visit
New Patient Resources
General Questions
What is going to happen on my first visit?
On your first visit to our office, you will receive a periodontal examination. You should experience little, if any, discomfort during this examination. If necessary, x-rays will be taken to further evaluate any loss of bone around your teeth. Afterwards, our findings and your options for treatment will be thoroughly explained. At that time, the doctor will answer any questions you may have. Our goal is that you leave with a complete understanding of your condition and the treatment needed to restore you to optimum oral health.
How much will treatment cost and will my insurance cover it?
Everyone deserves to keep their natural teeth for a lifetime. While periodontal treatment is not as costly as replacing natural teeth due to tooth loss, its cost can vary greatly depending upon your needs.If you have dental insurance, this may provide full or partial coverage. Our office will contact your insurance company to learn what they will cover. We feel that finances should never be an obstacle to treatment. For your convenience, we offer several payment options. We also have payment plans to suit your individual needs. Our office manager will be happy to answer any of your financial or insurance questions.
What are the medical consequences if I delay treatment?
When periodontal infection gets into the bone around your teeth, it can then enter your blood stream. From there it travels to other parts of the body and can contribute to medical problems. Recent research has found that patients with periodontal disease are more than twice as likely to suffer heart disease and stroke.
Do you use the latest equipment and techniques?
We keep ourselves up to date regarding equipment and periodontal procedures. You can be certain you will receive state-of-the-art care in our office. Regarding sterilization, we believe that all procedures should be safe as well as comfortable. We use only the latest sterilization techniques.
What other treatments do you provide?
Besides periodontal treatment and dental implants, we can perform a number of procedures, including:
Prescriptive Periodontal Procedures:
Crown lengthening
Antibiotic treatment
Aesthetic Ridge augmentation
Connective tissue grafting

Cosmetic Procedures:
Gingival (gum) contouring
Aesthetic crown lengthening
Soft tissue grafting
How is my general dentist important in my overall care?
Your general dentist knows your entire dental history, the condition of your teeth, and your future dental needs. He is in charge of your overall dental care. We work closely with him or her to ensure you receive the best possible dental care. In many cases, your general dentist may do your preliminary periodontal treatment and a portion of your periodontal maintenance.
---