What Are Implant Restorations?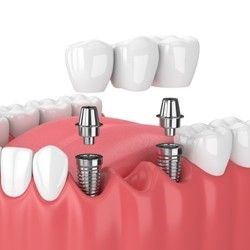 Dental implants effectively replace any number of upper or lower teeth and consist of three main parts, which include a titanium screw, an abutment (connector), and aesthetic restoration. While dental implant screws (posts) serve as artificial tooth roots, the visible (crown) restorative portion allows for normal oral function and aesthetics. Our expert team of periodontists will work closely with your general or restorative dentist to complete your implant restorations in Bellevue, WA. After we surgically place your dental implants, your dentist will create an implant-supported crown, bridge, or denture restoration that is customized to match your surrounding teeth, fit well with your jaw, and blend seamlessly into your smile for a natural-looking result. To learn more about implant restorations or the full arch dental restoration process, contact Premier Periodontics in Bellevue, WA, today.
Implant-Supported Restorations Reviews
"Dr. Hyun and Lourisa were amazing! So kind and sweet! They did a great job with the implants! They look great care of my mom and would recommend them to everyone!"
- S.M. /
Google /
Aug 19, 2022
"I had implants and a gum graft at Premier Periodontics. Everyone has been great @ the Kirkland Office , especially Dr Hyun, Lourisa and Brandon. the procedure went smoothly and they made sure I was comfortable and all of my questions were answered."
- K.G. /
Google /
Aug 27, 2022
"Doctor Huyn-Ba and Louria did and excellent job placing my implants. The procedure took two hours, as I knew it would, and they continued to ask me if I was ok and if I needed a break. They both explained every step as they were happening, being as gentle as possible. Highly recommend Premier Periodontics. Also BIG shout out to Chrissy and Christina, reception staff. So helpful and friendly. Talking with Chrissy really put me at ease having this done."
- K.B. /
Google /
Jan 21, 2023
"It was not my first visit, I've had several extractions and implants. I feel so lucky to be in Dr Dkeidek's care; wouldn't dream of going elsewhere! Expert at his job! Helpful and friendly staff!"
- E.M. /
Google /
May 05, 2023
"Dr Tolue, Thanh and the whole team are so great. Kind, gentle, informative, and always work with my crazy schedule. I highly recommend both offices if you are looking for dental implants and any other periodontics services they offer."
- J.H. /
Google /
Jul 10, 2023
Previous
Next
Will I need an Implant Crown, Bridge, or Denture?
The type of dental implant restoration you receive will depend on the number of teeth you are replacing and the number of dental implant screws needed to anchor your tooth replacement. Implant restorations may be crafted as one of the following:
Implant-retained crowns are attached to individual dental implants positioned in the jaw to replace single missing teeth.
Implant-retained bridges affix to two or more implants and replace a series of consecutively missing teeth.
Implant-retained dentures offer full-arch tooth replacement and rely on a series of implants strategically located within the jaw. If you need to replace a full upper or lower arch of teeth, our implant surgeons will collaborate closely with your restorative dentist to determine the number of implants necessary to support your full-arch appliance. In many cases, an implant-supported denture can be successfully anchored by a series of 4 – 6 implants placed at strategic support locations within the jaw.
When Will My Dental Implant Restoration Be Placed?
Our team will provide the surgical or placement portion of the process, positioning the titanium screw to anchor firmly in your jaw. Dental implants typically go through the process of osseointegration over the course of 6 – 9 months, which allows them to fuse solidly with your jawbone. In some instances, you may be able to receive implant surgery and the attachment of a functional temporary restoration within the same day. When your dental bridge for multiple missing teeth is ready and fully integrated with your jaw, your restorative dentist will then restore the post(s) by securely affixing a custom implant-supported crown, bridge, or denture to the titanium screws.
How Can I Care for An Implant Denture, bRidge, or Crown?
Dental implants and their restorations are brushed and flossed daily, just like natural teeth. When taken care of properly, dental implants can often last for many, many years. Over time, implant crown, bridge, and denture restorations may require replacement as they become worn from natural wear and tear that occurs during normal oral function. We encourage you to keep up with routine, regular dental cleanings and exams to help provide lasting oral health and keep your implants and supporting tissues in the best possible condition.
Does Insurance Cover Dental Implant REstorations?
Dental insurance may cover a portion of the treatment cost for implant restorations in Bellevue, WA. For assistance with understanding your insurance benefits and coverage amounts, please contact our team at Premier Periodontics.
Implant-Supported Restorations FAQ
Do implant-supported restorations hurt?
Your discomfort will vary based on your condition. While you may feel soreness after the procedure, you shouldn't feel anything during your implant restorations in Bellevue, WA. Our dental specialists numb the area and ensure your comfort throughout the entire process.
How long will my dental bridge for multiple missing teeth take to heal?
The implant process happens in multiple steps, meaning that you might require more than one healing stage. The healing process will be dependent on how many teeth are being replaced. In general, the healing process can take anywhere from 6 – 12 weeks.
Will my dental implants last forever?
Your dental implants may last a lifetime after being placed. In general, because implants never decay, they will last forever, and you will no longer have to worry about cavities where the implants are placed.
What can I eat after a full-arch dental restoration?
After a full-arch dental restoration, you should consume soft foods like yogurt, cottage cheese, and protein shakes two days after surgery. It is highly recommended that you avoid tough foods like rice, and popcorn, in addition to acidic and spicy foods. You should be able to resume your regular diet seven days after surgery.
Overcome Tooth Loss With Implant Dentistry
Dental implants offer a sound and lasting tooth replacement solution for many patients who have missing or damaged teeth. As a leading periodontal team, our implant surgeons routinely partner with general and restorative dentists to bring lasting full arch dental restoration and tooth replacement solutions to patients in the Bellevue, WA area. To learn more about dental implant placement and implant restorations, contact Premier Periodontics today and schedule your consultation.
Related Procedures
Related Posts