Implant-Supported Restorations Overview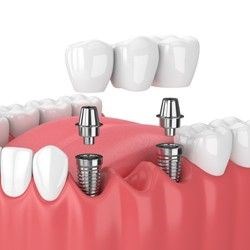 Dental implants effectively replace any number of upper or lower teeth and consist of three main parts, which include a titanium screw, an abutment (connector), and aesthetic restoration. While dental implant screws (posts) serve as artificial tooth roots, the visible (crown) restorative portion allows for normal oral function and aesthetics. Our expert team of periodontists will work closely with your general or restorative dentist to complete your dental implant procedure. After we surgically place your dental implants, your dentist will create an implant-supported crown, bridge, or denture restoration that is customized to match your surrounding teeth, fit well with your jaw, and blend seamlessly into your smile for a natural-looking result. To learn more about implant restorations or the dental implant process, contact Premier Periodontics in Bellevue, WA today.
Reviews
"Great appointment today. A quick scan, good news on the bone density, and an appointment to install the socket."
- P.C. /
Google /
Feb 29, 2020
"Tracy Evans cleaned my teeth today, she did an amazing job!"
- C.D. /
Google /
Feb 28, 2020
"Karen was incredible! Her attention to detail and willingness to share insights regarding my concerns was extremely helpful."
- T.K. /
Google /
Feb 27, 2020
"My dental hygienist and the team at Premier Periodontics are really great to work with. They always do a terrific job! I appreciate them. Thank you."
- J.A. /
Google /
Feb 27, 2020
"Had wonderful experience with hygienist Shannon and Dr. Hyun! Could not ask for a better team!"
- W.F. /
Google /
Feb 26, 2020
Previous
Next
Best Candidates for Implant-Supported Restorations
The type of dental implant restoration you receive will depend on the number of teeth you are replacing and the number of dental implant screws needed to anchor your tooth replacement: Implant restorations may be crafted as one of the following:
Implant-retained crowns are attached to individual dental implants positioned in the jaw to replace single missing teeth.
Implant-retained bridges affix to two or more implants and replace a series of consecutively missing teeth.
Implant-retained dentures offer full-arch tooth replacement and rely on a series of implants strategically located within the jaw. If you need to replace a full upper or lower arch of teeth, our implant surgeons will collaborate closely with your restorative dentist to determine the number of implants necessary to support your full-arch appliance. In many cases, an implant-supported denture can be successfully anchored by a series of 4 – 6 implants placed at strategic support locations within the jaw.
What to Expect with Implant-Supported Restorations
Our team will provide the surgical or placement portion of the process, positioning the titanium screw to anchor firmly in your jaw. Dental implants typically go through the process of osseointegration over the course of 6 – 9 months, which allows them to fuse solidly with your jawbone. In some instances, you may be able to receive implant surgery and the attachment of a functional temporary restoration within the same day. When your implants are ready and fully integrated with your jaw, your restorative dentist will then restore the post(s) by securely affixing a custom implant-supported crown, bridge, or denture to the titanium screws.
Implant-Supported Restorations Follow-Up
Dental implants and their restorations are brushed and flossed daily just like natural teeth. When taken care of properly, dental implants can often last for many, many years. Over time, implant crown, bridge, and denture restorations may require replacement as they become worn from natural wear and tear that occurs during normal oral function. We encourage you to keep up with routine, regular dental cleanings and exams to help provide lasting oral health and keep your implants and supporting tissues in the best possible condition.
Implant-Supported Restorations Insurance Coverage
Dental insurance may cover a portion of the treatment cost for implant restorations. For assistance with understanding your insurance benefits and coverage amounts, please contact our team at Premier Periodontics.
Dental implants offer a sound and lasting tooth replacement solution for many patients who have missing or damaged teeth. As a leading periodontal team, our implant surgeons routinely partner with general and restorative dentists to bring lasting tooth replacement solutions to patients in the Bellevue, WA area. To learn more about dental implant placement and implant restorations, contact Premier Periodontics today and schedule your consultation.
Related Procedures
Related Post