What Is a Dental Bone Graft?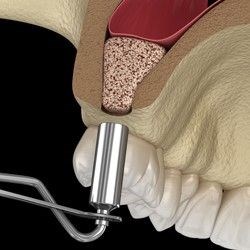 Jawbone health and density are important to your general dental health. If your jawbone is deteriorating from periodontal (gum) disease, physical trauma, or the loss of teeth, you may need to undergo a bone graft to strengthen the foundation of your teeth and allow for dental implant placement. Bone grafting is a specialized procedure our board-certified periodontists offer to help to strengthen and build up your jawbone so that it is healthy enough to support tooth replacement with an implant. At Premier Periodontics, we use minimally invasive Piezoelectric techniques when performing precision bone grafting procedures to replace lost bone and improve oral health. Get in touch with one of our Bellevue, WA area practice locations today to meet with our team for more on bone grafting for your needs.
Bone Grafting Reviews
"Dr Toloue and hygienist are so outstanding! I had massive bone loss and Her amazing laser treatment and periodic care there has promoted huge bone growth and saving my expensive implant! They are excellent! Fabulous latest equipment- Susan Samuelson"
- S.S. /
Google /
Nov 19, 2019
"My dentist suspected a cracked root on my retainer tooth for my bridge. Sure enough it was cracked and I was referred to Dr. Dkeidek at Premier Periodontics for an extraction and bone grafting. The front desk staff was very kind and made me feel very comfortable when scheduling an appointment. Dr. Dkeidek's assistant Jessica was very thorough when explaining the procedure and my post-op care. Dr. Dkeidek is excellent at giving anesthetic and it was a painless procedure. I will highly Premier Periodontics to all."
- D.R. /
Google /
Sep 15, 2020
"I wanted to get some restorations done that involved extractions, bone grafts, and implants. I was referred to Premier Periodontics to get them done. Dr. Dkeidek came highly recommended and I quickly understood why. He is communicative, gentle, and thorough. After beginning my procedures, Dr. Dkeidek recommended making a small change which he discussed with me as well as communicated with my dentist which insured the success of my procedure. Everyone in the Redmond office is friendly and attentive. Their Covid prevention practices made me feel safe in every aspect of my treatment. Being in the dental field, I have some insight and understanding of great work and I definitely found it here. I'm very pleased with my experience at Redmond Premier Periodonics and highly recommend them if you're looking to get dental implants done."
- F.C. /
Google /
Dec 03, 2020
"Dr. Dkeidek was on time(!!), kind, knowledgeable, gentle, and knew how to anesthetize the nervous me for the extraction. I highly recommend him for implants and bone grafting as well. The team at Premier Periodontics is friendly and knowledgeable, which makes each visit a pleasant experience."
- T.M. /
Google /
May 04, 2021
"Dr. Dkeidek was on time(!!), kind, knowledgeable, gentle, and knew how to anesthetize the nervous me for the extraction. I highly recommend him for implants and bone grafting as well. The team at Premier Periodontics is friendly and knowledgeable, which makes each visit a pleasant experience."
- T.C. /
Google /
May 09, 2021
Previous
Next
When Is a Bone Graft Recommended?
You may be a good candidate for a bone grafting technique if you have bone loss in your jaw due to advanced gum disease, oral trauma, or following the loss of one or more teeth. When a tooth is extracted, the tooth roots are no longer there to stimulate the jawbone. Without this stimulation, the bone begins to dissolve, which can leave too little support for a dental implant tooth replacement. Bone grafting may be recommended immediately following an extraction to preserve the area for a dental implant or to replenish and strengthen an already depleted jawbone.
How Is a Dental Bone Graft Performed?
The exact process of your bone graft procedure will depend on the source of the graft and the amount of grafting you need. Bone grafting adds donor tissue to areas of the jaw that have deteriorated. This donor bone may be taken from another bone in your body, such as your chin, shin, or hip (autograft). Other grafting options may use bone harvested from another person (allograft) or a bovine (xenograft). In other cases, we may use a synthetic bone graft (alloplast). At your consultation, our skilled periodontists will explain your grafting options and help you select the best method.
When the graft is ready, our team will numb the area with a local anesthetic. Sedation techniques can also be used to provide further relaxation if you prefer. Our team will prepare the areas being treated using Piezoelectric bone surgery procedures, which operates on ultrasonic technology. This approach allows us to prepare your jawbone with minimal impact on the surrounding gum tissues. Your graft will be affixed to the jawbone, along with proteins and collagen that encourage the graft to integrate with your jaw and new bone to grow. The incision will be sutured closed and given time to heal.
What Can I Expect After a Bone Grafting Procedure?
You may experience minor swelling or discomfort following your procedure, which can be relieved with pain medication prescribed by our team or over-the-counter options. In the following 6 – 9 months, the graft will heal and integrate with your jaw (osseointegration). Additional appointments at Premier Periodontics may be scheduled so that our team can check your progress and determine when your jawbone is strong enough to support a dental implant.
Is Bone Grafting Covered by Insurance?
We can talk to your dental insurance to determine your insurance coverage and estimated out-of-pocket costs before your bone grafting procedure begins. Premier Periodontics is a preferred provider for several major insurance plans and takes a range of easy payment methods. To make your care even more affordable, we are pleased to offer a special 12-month financing option. Talk to our team today for more information.
Bone grafting may be an important part of your treatment to give your dental implants the support needed for success. During your appointment with our periodontal specialists, you will learn more about your bone graft options and receive a custom plan for treatment that leads to a stronger jaw and healthier mouth. Contact Premier Periodontics in Bellevue, WA to make your appointment for custom, comprehensive bone grafting care.
Related Procedures
Related Posts