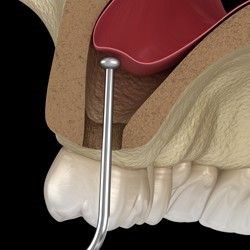 Bone loss in the upper jaw may impair your ability to replace molar or premolar teeth with dental implant solutions. However, sinus lift surgery is a bone grafting technique Premier Periodontics offers that may be used to increase your candidacy for implant dentistry. Insufficient bone height in the upper jaw, poor bone quality, or sinuses that have expanded into areas where tooth roots once sat may all make placing an implant in the upper back jaw a challenge. With a sinus augmentation procedure, however, our skilled periodontal team can raise the floor of the sinus or add bone grafting material in this area to the bone needed for supporting a dental implant. To learn more about your options for replacing teeth missing in the upper jaw, contact our Bellevue, WA practice to learn more about dental implants and sinus lift surgery.
Sinus Lifts Reviews
"I HIGHLY recommend Premier Periodontics Everett. I visited them for an implant preparation which also included a sinus lift. I've had this same procedure some at a different facility and the experiences couldn't be any different. Not only is Dr. Wattimena trained in the latest techniques, but his "chairside" manner is very reassuring, educational if you want to ask questions, and he adds a sense of humor to make you at ease. His surgical assistant Ashely was very professional and they worked well together. Tessa worked quietly and efficiently in the background to help ensure they had what they needed to make the entire process a success. The three of them make a very well organized and professional team."
- K.W. /
Google /
May 20, 2022
Previous
Next
when is a sinus lift necessary?
Candidates for a sinus floor lift may include those who have lost upper back teeth and have insufficient room in the top jaw to support a dental implant. This situation may be caused by bone loss, expansion of the sinus floor, or if the sinuses are naturally large or too close to where the tooth roots should be. At your appointment with our Premier Periodontics team, advanced 3D cone beam imaging will be used to clearly measure your jaw and sinuses and ascertain whether performing a sinus lift would be an appropriate plan of action to prepare you for an implant.
What are the benefits of a sinus lift?
Once a dental implant is needed, it's important to consider the multiple steps that may be required before it can be placed. The steps can include making sure your gum health is optimal, removing any damaged teeth, and making sure your jawbone is strong. If you have a weak jaw, a sinus augmentation (or a sinus lift) can help to strengthen the jaw that's weakened over time. Some of the benefits of a sinus lift for implant include:
Addition of room in the mouth so new bone can be placed
Reinforces the bone so the implant can set
Helping to repair tooth loss and gum disease
Reducing the risk of sinus damage
If you have additional questions about a sinus lift in Seattle, WA, contact our office to schedule an appointment. We will go over all the steps to find out if a sinus lift is ideal for you.
what should I expect with sinus lift surgery?
A sinus lift is an advanced surgical procedure that is performed in our office by one of our board-certified periodontists. While performed with a local anesthetic, we are pleased to offer several sedation dentistry options to help you experience a relaxed, care-free procedure. We may use one of several sinus lifts to perform your procedure based on your unique needs. To complete the sinus lift, we will make an incision in the gum tissue at the back of your mouth to access the jawbone and sinus cavity. The floor of the sinus will then be gently elevated using expert technique and bone grafting tissue will be added beneath. In other cases, bone grafts may be added within the sinus cavity, directly to the sinus floor. The result is increased bone height and width that is capable of securely anchoring a dental implant. Lastly, the incision within the gumline will be sutured.
what should I expect after a sinus augmentation?
After your sinus floor lift surgery, you might be written a prescription for a pain reliever to assist you during your recovery. Our surgical team will also talk to you about the best way to care for your incisions and what to expect as you heal. You should schedule a follow-up appointment about a week or two after your sinus surgery for suture removal. In most cases, the bone graft will require about 6 – 9 months to fully heal before a dental implant procedure can be scheduled.
will my dental insurance cover a sinus lift?
If you carry dental insurance, we will be happy to speak to your provider to determine your coverage amounts and estimate your out-of-pocket expenses. Premier Periodontics is a preferred provider for several dental insurance companies and can help you navigate your plan to maximize your benefits. We also accept a range of payment options and can provide you with information on low-interest medical financing to make your treatment even more affordable.
Where does the bone for a sinus lift come from?
Bone grafting material for sinus lift procedures is sourced from either your own body (often the chin or another part of the jaw), a donor source (from a tissue bank), or another species (such as a bovine). Synthetic materials may also be used to fortify the jawbone during a sinus lift. Our Premier Periodontics specialists can help you determine the best bone graft material for your sinus lift.
Is sinus floor lift surgery uncomfortable?
Our team is dedicated to helping you feel as comfortable as possible during sinus lift surgery. Local anesthesia will be administered before the surgery to help numb the area. Sedation dentistry services may also be provided to help ensure you feel relaxed and at ease throughout your visit. If you are in need of a dental sinus lift, our Bellevue, WA periodontal team can provide further information on what to expect throughout the treatment process.
How long is the recovery process after sinus lift surgery?
Most patients begin to feel normal after about 1 – 2 weeks following sinus lift surgery. Swelling in the mouth and face may last for several days, but this can often be minimized with ice packs. You will likely be advised to avoid blowing your nose, drinking through a straw, smoking, and other activities for one or more weeks. Specific and detailed aftercare instructions will be provided to you by our periodontal team.
increase your dental implant chances
Dental implants are an excellent way to replace missing teeth in the mouth. If you have lost upper back teeth, however, a sinus lift procedure from Premier Periodontics can provide the bony support your implants need to serve your smile over the long term. Our periodontists are proud to offer dental sinus lifts to Bellevue, WA and Seattle-area patients. We invite you to call our practice to schedule an appointment with one of our exceptional periodontal specialists.
Related Procedures
Related Post