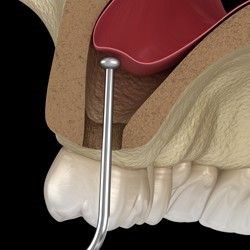 Bone loss in the upper jaw may impair your ability to replace molar or premolar teeth with dental implant solutions. However, sinus lift surgery is a bone grafting technique Premier Periodontics offers that may be used to increase your candidacy for implant dentistry. Insufficient bone height in the upper jaw, poor bone quality, or sinuses that have expanded into areas where tooth roots once sat may all make placing an implant in the upper back jaw a challenge. With a sinus augmentation procedure, however, our skilled periodontal team can raise the floor of the sinus or add bone grafting material in this area to the bone needed for supporting a dental implant. To learn more about your options for replacing teeth missing in the upper jaw, contact our Bellevue, WA practice to learn more about dental implants and sinus lift surgery.
Reviews
"I can't express how amazing my experience was with Premier Periodontics. Everyone is very kind and highly professional. I had Dr. Ashour and Mckenzie complete my implant procedure. Both were very attentive and explained everything as we went through the procedure. I would highly recommend Premier and more specifically Dr. Ashour and Mckenzie! I can't thank them enough!"
- L.R. /
Google /
Oct 14, 2021
"I was treated quickly with respect and consideration of my specific needs."
- K.G. /
Google /
Oct 14, 2021
"Fantastic job and Dr and staff are great"
- P.L. /
Google /
Oct 09, 2021
"These folks are specialists- only do periodontal work. They have latest technology, experienced and capable staff, well run office."
- J.K. /
Google /
Oct 08, 2021
"This is a great place to have any dental work. I saw Dr. Hyun for my consultation to have gum grafting and her assistants Lydia, Lourisa, and Thomas all helped me overcome my fear of going in for surgery."
- Google User /
Google /
Oct 08, 2021
Previous
Next
when is a sinus lift necessary?
Candidates for a sinus lift may include those who have lost upper back teeth and have insufficient room in the top jaw to support a dental implant. This situation may be caused by bone loss, expansion of the sinus floor, or if the sinuses are naturally large or too close to where the tooth roots should be. At your appointment with our team, advanced 3D cone beam imaging will be used to clearly measure your jaw and sinuses and ascertain whether performing a sinus lift would be an appropriate plan of action to prepare you for an implant.
what should I expect with sinus lift surgery?
A sinus lift is an advanced surgical procedure that is performed in our office by one of our board-certified periodontists. While performed with a local anesthetic, we are pleased to offer several sedation dentistry options to help you experience a relaxed, care-free procedure. We may use one of several sinus lifts to perform your procedure based on your unique needs. To complete the sinus lift, we will make an incision in the gum tissue at the back of your mouth to access the jawbone and sinus cavity. The floor of the sinus will then be gently elevated using expert technique and bone grafting tissue will be added beneath. In other cases, bone grafts may be added within the sinus cavity, directly to the sinus floor. The result is increased bone height and width that is capable of securely anchoring a dental implant. Lastly, the incision within the gumline will be sutured.
what should I expect after a sinus augmentation?
After your sinus surgery, you might be written a prescription for a pain reliever to assist you during your recovery. Our surgical team will also talk to you about the best way to care for your incisions and what to expect as you heal. You should schedule a follow-up appointment about a week or two after your sinus surgery for suture removal. In most cases, the bone graft will require about 6 – 9 months to fully heal before a dental implant procedure can be scheduled.
will my dental insurance cover a sinus lift?
If you carry dental insurance, we will be happy to speak to your provider to determine your coverage amounts and estimate your out-of-pocket expenses. Premier Periodontics is a preferred provider for several dental insurance companies and can help you navigate your plan to maximize your benefits. We also accept a range of payment options and can provide you information on low-interest medical financing to make your treatment even more affordable.
increase your dental implant chances
Dental implants are an excellent way to replace missing teeth in the mouth. If you have lost upper back teeth, however, a sinus lift procedure from Premier Periodontics can provide the bony support your implants need to serve your smile over the long-term. We invite you to call our practice in Bellevue, WA to schedule an appointment with one of our exceptional periodontal specialists.
Related Procedures