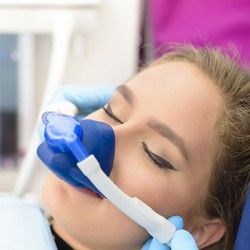 If you have been avoiding the periodontal care you need due to anxiety about visiting the dentist, nitrous oxide sedation may be an excellent complement to your procedure. At Premier Periodontics, our team of periodontists provides nitrous oxide sedation for minor and complex dental procedures to help individuals with dental anxieties and fears enjoy pleasant, stress-free visits. Nitrous oxide (N2O) gas, commonly referred to as "laughing gas," is a mild yet effective conscious sedation technique that can help you relax safely during your procedure while remaining awake throughout your visit. Schedule a consultation with our Bellevue, WA practice to discuss the use of sedation methods, like N2O, when undergoing periodontal treatment.
Reviews
"Doctor Huynh Ba and his staff is very professional. Excellent service! I have many surgery including removed my previous implants from other Dentists. Doctor Huynh Ba did it all. You name it! Remove old failure implanted, fixed soft tissue problem and install new implant. The service fee is half compare to the my old Dentist charged me. I would recommend to anyone about Premier Periodontics in Kent."
- T.L. /
Google /
Nov 18, 2020
"Mary Jo is hard worker, thank you for your time with me"
- L.T. /
Google /
Nov 18, 2020
"Outstanding office staff, assistant , And very knowledgeable Doctor. Being in the Dental Lab industry, its nice to have Premier Periodontics-Everett. To work with."
- M.H. /
Google /
Nov 13, 2020
"Great experience, very friendly staff. Very comfortable environment."
- W.W. /
Google /
Nov 13, 2020
"Customer service was great! All staff were great! From intake, financial, assistants to the doctor himself. The dr. made sure I understood all options. Would highly recommend."
- B.C. /
Google /
Nov 13, 2020
Previous
Next
Nitrous oxide is an incredibly popular sedation technique that can be used with little risk to most patients. Prior to approving the use of nitrous oxide, our periodontal team will discuss your treatment concerns and review your current medications and medical history to be sure that nitrous oxide gas is indeed a fit for you. N2O sedation can be used for lengthy or short procedures and is usually paired with local anesthesia to help minimize any discomfort. Nitrous oxide sedation may also be used to ease fear or anxieties toward routine dental visits, such as for periodontal maintenance cleanings. This inhalation sedation option may not be a good choice if you have extreme phobias, trouble breathing through your nose, respiratory illness, or other similar conditions.
Before your periodontal procedure is initiated, nitrous oxide will be administered to you via a nasal hood. As you gently breathe in the gas, it will act quickly and start relaxing you within minutes. Our clinical team will observe your health and response to the gas and adjust the medication as required during the procedure so that you remain at ease. You might notice tingling in your arms and legs, as well as a feeling of warmth, vibration, and euphoria as the N2O takes effect. Nitrous oxide is typically used in conjunction with local anesthesia, like lidocaine, to numb treatment areas and provide overall comfort. Once the procedure is complete, the gas is turned off and the effects begin to fade immediately.
Recovery from N2O sedation is typically immediate since the medication is eliminated from your system in just a few minutes. You should be able to operate a vehicle and resume your daily activities when you leave our facility. Side effects are not common, but you may experience headaches, chills, sweating, nausea, vomiting, or fatigue. Please do not hesitate to contact our office if you have any concerns or experience side effects that last longer than a few days. To reduce the risk of nausea, we recommend that you consume a small meal or light snack before your procedure and then wait at least three hours after your appointment before eating a large meal.
If you carry dental insurance, we will contact your carrier to obtain information regarding coverage for nitrous oxide sedation. This information will help us determine your estimated treatment costs prior to your procedure. Our Premier Periodontics team wants every patient to get the care they need in comfort and accepts several types of payment, including medical financing, to help make your procedure more affordable.
Dental anxiety does not have to stand in your way of getting the quality periodontal care you need for a healthy smile. If you feel anxious, stressed, or fearful when receiving dental treatment, talk to our experienced team of periodontists in Bellevue, WA to learn about nitrous oxide and other forms of conscious sedation. We are happy to answer your questions about the use of nitrous oxide sedation at Premier Periodontics and are ready to help you enjoy positive, pleasant treatment experiences.
Related Procedures