what is nitrous oxide sedation?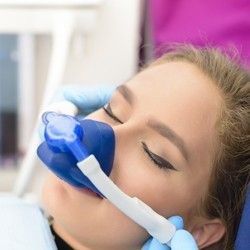 If you have been avoiding the periodontal care you need due to anxiety about visiting the dentist, nitrous oxide sedation may be an excellent complement to your procedure. At Premier Periodontics, our team of periodontists provides nitrous oxide sedation for minor and complex dental procedures to help individuals with dental anxieties and fears enjoy pleasant, stress-free visits. Nitrous oxide (N2O) gas, commonly referred to as "laughing gas," is a mild yet effective conscious sedation technique that can help you relax safely during your procedure while remaining awake throughout your visit. Schedule a consultation with our Bellevue, WA practice to discuss the use of sedation methods, like N2O, when undergoing periodontal treatment.
Reviews
"Premier Periodontics in Redmond is amazing. Dr. Dkeidek is fantastic, friendly and truly cares for the patients. Svetlana was very friendly, professional and put me at ease. Tesla was friendly and very knowledgeable. I highly recommend this office and the wonderful team."
- M.G. /
Google /
Sep 23, 2023
"Gentle, supportive and knowledgable. The whole staff were welcoming and interested in my comfort and care."
- J.F. /
Google /
Sep 22, 2023
"I love premier periodontist!! They use state if the art techniques and superb doctors and hygienists! Cindy is wonderful!"
- M.M. /
Google /
Sep 22, 2023
"Dr Toloue, Thanh and everyone at Premier Periodontics were professional, personable and made me feel at ease right from the start. I'm so glad my dentist referred me to this group for a needed implant."
- L.E. /
Google /
Sep 22, 2023
"Fastest oral surgery I've ever had. Staff was really nice and helpful. Arina, my surgical assistant, was funny and helped shake the nerves of the operation. Tesla (or one of the receptionists) helped me get my appointment the day after I called in which is nice when you're missing a front tooth"
- S.S. /
Google /
Sep 22, 2023
Previous
Next
am I a good candidate for dental sedation? 
Nitrous oxide is an incredibly popular sedation technique that can be used with little risk to most patients. Prior to approving the use of nitrous oxide, our nitrous dentists in Bellevue, WA will discuss your treatment concerns and review your current medications and medical history to be sure that nitrous oxide gas is indeed a fit for you. N2O sedation can be used for lengthy or short procedures and is usually paired with local anesthesia to help minimize any discomfort. Nitrous oxide sedation may also be used to ease fear or anxieties toward routine dental visits, such as for periodontal maintenance cleanings. This inhalation sedation option may not be a good choice if you have extreme phobias, trouble breathing through your nose, respiratory illness, or other similar conditions.
what should I expect froM nitrous oxygen sedation?
Before your periodontal procedure is initiated, nitrous oxide will be administered to you via a nasal hood. As you gently breathe in the gas, it will act quickly and start relaxing you within minutes. Our clinical team will observe your health and response to the gas and adjust the medication as required during the procedure so that you remain at ease. You might notice tingling in your arms and legs, as well as a feeling of warmth, vibration, and euphoria as the N2O takes effect. Nitrous oxide is typically used in conjunction with local anesthesia, like lidocaine, to numb treatment areas and provide overall comfort. Once the procedure is complete, the gas is turned off, and the effects begin to fade immediately. We also offer oral sedation dentistry in Bellevue, WA to further our patients' comfort.
how long does recovery take from laughing gas?
Recovery from N2O sedation is typically immediate since the medication is eliminated from your system in just a few minutes. You should be able to operate a vehicle and resume your daily activities when you leave our facility. Side effects are not common, but you may experience headaches, chills, sweating, nausea, vomiting, or fatigue. Please do not hesitate to contact our office if you have any concerns or experience side effects that last longer than a few days. To reduce the risk of nausea, we recommend that you consume a small meal or light snack before your procedure and then wait at least three hours after your appointment before eating a large meal.
will my insurance cover dental sedation? 
If you carry dental insurance, we will contact your carrier to obtain information regarding coverage for nitrous oxide sedation. This information will help us determine your estimated treatment costs prior to your procedure. Our Premier Periodontics team wants every patient to get the care they need in comfort and accepts several types of payment, including medical financing, to help make your procedure more affordable.
Nitrous Oxide Sedation FAQ
Is nitrous oxide sedation safe?
Yes, for most patients, nitrous oxide sedation is generally very safe and effective. It has been safely used for more than a century by doctors and dentists alike. During your consultation, we will review your medical history to ensure you're a good candidate for nitrous oxide sedation. During your procedure, your vitals will be constantly monitored to ensure your safety.
Does nitrous oxide sedation keep you from feeling pain?
While nitrous oxide sedation can dull the sensation of pain, it is not an anesthetic. It is more to help you feel calm and relaxed during your treatment while helping to distance your perception of the procedure. To prevent you from feeling pain, we will use a local anesthetic to numb the treatment area.
Will nitrous oxide sedation put me to sleep?
Some people under nitrous oxide sedation can fall asleep, but it is from a relaxed, comfortable feeling, not from the nitrous oxide itself. It's OK if you fall asleep as we can still work or gently wake you if necessary.
Will I need someone to drive me home after nitrous oxide sedation?
Because the effects of nitrous oxide sedation wear off so quickly, most patients typically do not need someone to drive them home after. However, you should talk with your doctor and our doctors at Premier Periodontics if you are taking any medications or have a preexisting health condition.
Dental anxiety does not have to stand in your way of getting the quality periodontal care you need for a healthy smile. If you feel anxious, stressed, or fearful when receiving dental treatment, talk to our experienced team of nitrous dentists in Bellevue, WA to learn about nitrous oxide and other forms of conscious sedation like oral sedation. We are happy to answer your questions about the use of nitrous oxide sedation at Premier Periodontics and are ready to help you enjoy positive, pleasant treatment experiences.
Related Procedures