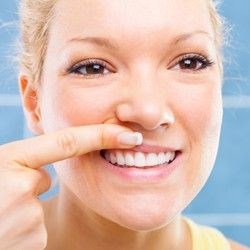 A "gummy" smile is a concern for many Seattle-area patients. This cosmetic concern may occur if the top portion of the teeth is concealed by excessive gum tissue, which also makes the front teeth appear short. At Premier Periodontics, gum contouring can sculpt your smile by removing excess soft tissue and exposing more tooth enamel. Not only can gum reduction surgery create a more aesthetically appealing and wider smile, but it could also improve your dental health by eliminating places where bacteria may hide. This lowers your chances of developing periodontal disease, cavities, and oral infections. Make an appointment with our board-certified specialists at Premier Periodontics to learn more about gummy smile treatment in Bellevue, WA, and how we can transform a gummy smile with gum contouring and sculpting.
Gum Contouring Reviews
"I am so happy I went to Premiere Periodontics in Kirkland today because he said that I did not need gum surgery, when the other periodontist I went to a few months ago from a different company wanted to charge me $10,000 for gum surgery. I appreciate his honesty at Premier Periodontics to not do useless surgery. Also, I appreciate it that if I did have surgery at Premiere they would not put me out with drugs, but the other place said that the only way that they do surgery is by putting people out with drugs."
- M.U. /
Google /
Jan 27, 2023
"So happy to have found Premier Periodontics after my previous periodontist retired. I just had laser surgery done by Dr. Huynh-Ba and his assistant Lourisa. Dr. Huynh-Ba checked on me frequently to make sure I was doing okay and not in any pain. Lourisa went over all the after surgery instruction with me which was quite helpful. She also called me the next day to see how I was doing. I've had invasive gum surgery treatment done in the past, the pain and recovery from laser surgery is like night and day compared to the non laser procedure. No pain or swelling after day two. All the staff are courteous and professional."
- J.Y. /
Google /
Jan 27, 2023
"Dr. Toloue performed my gum surgery and she was excellent and I am happy with the results. The entire experience was seamless, I am thankful to her and her team for that! Pain was more like discomfort, minimal and manageable. I was pleasantly surprised that the palate of my mouth where the grafting was done did not hurt at all post-op, they did such a nice job patching it up! Very impressive work."
- K.B. /
Google /
Jul 17, 2023
"Quick and easy follow up to gum surgery all went well. They saw me before my scheduled appointment time and were very thorough."
- B.B. /
Google /
Jul 26, 2023
"Absolutely the best dental experiences I've ever had. I had to have gum surgery and a tooth replaced and they worked expertly with my sensitivity to Lidocaine. The entire office staff is top notch and I will return for any future needs. A big 'Thank You!' to Dr. Issa Dkeidek, all of the assistants and front office staff!"
- J.A. /
Google /
Oct 09, 2023
Previous
Next
What Are the Benefits of Gum Contouring?
Gum contouring, also called a "gum lift," can offer several benefits for your oral health and smile. By removing excess gum tissue from around the teeth, our periodontists can help to:
Remove excess or overgrown gum tissue
Reshape areas of the gums that are irregular
Bring a more symmetrical appearance to an uneven gumline
Expose more tooth structure, making teeth look longer
Reduce the risk of gum disease
Minimize areas where food can collect and bacteria can hide
Improve your gum health
Enhance the aesthetic appeal of your smile
Is Gum Reshaping Right for Me?
Sculpting the gums may create a more proportionate smile while also assisting your oral health. You might be a candidate for gum contouring and sculpting if:
The gum tissues appearing in your smile line are low
Your gum tissues cover too much surface area of your teeth
You experience recurring oral infections
You need periodontal pocket reduction due to gum disease
Contact our periodontal team to schedule a consultation and see if cosmetic gum contouring is right for you.
How Does Gum contouring Work?
Gum reduction surgery is performed in our office using local anesthesia. Options for sedation may be discussed if you have fears or anxiety about visiting the dentist. Before the treatment, your gums and teeth will be cleaned, then dried. Our team will then use an advanced technique to gently remove and reshape your gum tissue until a more balanced gumline is revealed. As soon as your gums are the right shape and a proper tooth-to-gum balance has been achieved, we will rinse your gums so you may see your results. Usually, gummy smile treatment in Bellevue, WA, can be completed in a single appointment.
What Can I Expect After Gummy smile Treatment?
When your gummy smile treatment is complete, our clinical staff will discuss recovery instructions. Your gums might be a little red or swollen for a few days, which can often be minimized with nonprescription anti-inflammatory medication. If you follow a good oral health routine of daily brushing and flossing, your gum tissue will soon begin to heal. To enjoy lasting results for a healthy smile, we recommend you keep up with routine dental cleaning and exam visits with your general dentist following a gum contouring procedure.
Does Insurance Cover Gum Contouring?
As a cosmetic dental procedure, gummy smile treatment in Bellevue, WA, may not be covered by dental insurance. However, Premier Periodontics still wants to help you get the care you need for optimal oral health. We are pleased to accept an array of payment methods and offer special 12-month financing. Talk with our knowledgeable business team today to learn more.
How long does it take to recover following gum reduction surgery?
Overall, your gums will take a few weeks to recover. We will provide specific instructions to follow to help ensure the healing process goes smoothly. The tips we provide after your gummy smile treatment can help to reduce any discomfort you might feel after the surgery.
Are there risks associated with gum contouring?
As with every surgery, there will be some risks involved. A relapse of gum tissue could be the main risk. However, if you still experience a gummy smile after surgery and are not fully satisfied, contact our team. We will be happy to do whatever is necessary to help you achieve the smile you have always wanted.
Is cosmetic gum reshaping uncomfortable?
When performing gum contouring procedures, our team uses numbing agents to help keep you comfortable throughout the procedure. If you experience any discomfort, let our dental team know so that we can make adjustments.
How long do gum reshaping results last?
When excess gum tissue affects your oral health, you want to know that gummy smile treatment can treat your concerns. How long the results will last depends on the reason for the overgrowth. Request a consultation with our periodontal team so that we can address the issue and figure out how to help you.
Contour Overgrown Gum Tissues
Cosmetic gum contouring at Premier Periodontics is an excellent treatment for many patients. It can sculpt the gumline to improve the appearance of a "gummy" smile and serve to lessen the chances of gum disease. Whether you would like to enjoy a beautifully balanced smile or enhance your oral health, gum contouring may be a great option for you. To get more information about this gum reduction procedure, contact our office in Bellevue, WA, to book your appointment with our talented team of periodontists.
Related Procedures