What Is a Dental Implant?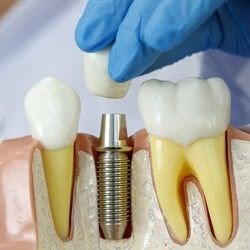 If you are looking for a long-lasting solution to replace a missing tooth or teeth, dental implants from Premier Periodontics may be a great choice. Dental implants are biocompatible posts often made of titanium and surgically placed in the upper or lower jawbone to replace the natural tooth root. One or more implants can be placed to support a natural-looking crown, bridge, or denture for a beautiful restoration that can be used just like your natural teeth. Dental implants look, act, and feel just like real tooth structure and may be used to overcome the loss of teeth in the front or back of the mouth. To fix a gap in your smile or restore your ability to eat and speak comfortably after tooth loss, make a consultation at Premier Periodontics to learn if you are a candidate for implant dentistry. Our team of board-certified surgeons uses state-of-the-art procedures to perform implant surgery and is pleased to offer implant solutions to patients in the Bellevue, WA and surrounding Seattle area.
Dental Implants Reviews
"Best place in Everett for dental implants in my opinion. Thank you Dr. Hyun & Lourisa! You make me feel welcome every time I visit and your work is absolutely excellent."
- Anonymous /
Facebook /
Oct 13, 2021
"I recently had three extractions and bone grafts in preparation for implants at the Kirkland office. The procedure was performed by Dr Hyun and assisted by Lourisa and Iryna. I felt immediately that I could not have been in better hands for the procedure. I highly recommend!"
- E.C. /
Google /
Apr 19, 2022
"Dr. Hyun is awesome. Her bedside manner is excellent. Her ability to make you feel comfortable and informed is above reproach. Add to that her ability in performing her "magic" on gum graft and implants placement and you have a win, win. Her assistant is caring and communicative. It's nice to get the answers to your questions as well as just casual banter."
- M.C. /
Google /
Apr 22, 2022
"Dr. Hyun is awesome. Her chairside manner is excellent. Her ability to make you feel comfortable and informed is above reproach. Add to that her ability in performing her "magic" on gum graft and implants placement and you have a win, win. Her assistant is caring and communicative. It's nice to get the answers to your questions as well as just casual banter."
- M.C. /
Google /
Apr 26, 2022
"I had 2 teeth removal and 2 implants installed by DR. Eirleen Hyun, and her assistants Candice, and Louisa at the Everett office. I never felt the needle with the anesthetic, and they made the whole procedures painless, comfortable, and very well done. They not only know how to perform their jobs very well but they are also compassionate, friendly, and easy to talk to. I totally recommend Dr. Hyun, her team, and the office staff."
- B.V. /
Google /
May 13, 2022
Previous
Next
Who Is a Good Candidate for Dental Implants?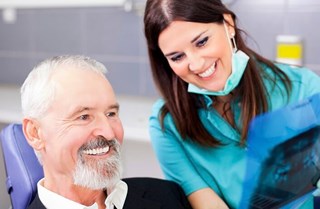 Implants can replace a single missing tooth, several missing teeth, or a whole missing arch with an implant-supported crown, bridge, or denture. You may prefer a dental implant if you have a traditional bridge or denture tooth replacement but are dissatisfied with its look, fit, or comfort. Dental implants can be cleaned just like your natural teeth with daily flossing and brushing and routine care from your general dentist. During your dental implant consultation, our specialists will assess the health of your gums and jawbone to determine if a dental implant is a viable option. In some cases, a bone graft may be completed prior to implant surgery to strengthen the foundation necessary for long-term implant success. Dental implant surgery may not be suitable at this time if you are pregnant, use tobacco products, have certain medical conditions, or are being treated for another issue, like periodontal disease. If you are searching for an implant specialist in Seattle, WA or the surrounding areas, please contact Premier Periodontics to schedule a visit.
What Is the Dental Implant Process?
During your implant consultation at one of our Seattle-area offices, our team will take advanced 3D cone beam images of your mouth and jaw to gain an understanding of your oral health and tooth replacement needs. This highly detailed image will also allow us to precisely plan where to position your dental implant posts within your jaw. Before the dental implant is placed, you may have damaged teeth extracted from your jaw and a bone graft performed. In a number of cases, we can remove a tooth, perform a bone graft, and place a dental implant all within the same visit.
As soon as your mouth is ready for the implant to be placed, local anesthesia will be administered to the treatment area to numb your mouth. Sedation methods may be used to keep you comfortable throughout the treatment. Our skilled implant surgeons will make an incision in your gum and prepare your jawbone to receive the implant using the minimally invasive Densah Protocol. This advanced approach can enhance the stability of your implant and encourage a faster healing response. Once we place the titanium post in the jawbone, the incision will be closed with part of the post above the gumline. The process will continue if multiple implants are required.
What Can I Expect After Dental Implant Placement?
As the implant integrates into the bone and gum over the next few months, a temporary restoration may be used to protect the post and maintain your oral needs. When our team determines that the dental implant is healed into your jaw and gums, your restorative dentist can then create your custom restoration (crown, bridge, or denture) and attach it securely to your implant post(s).
Following your dental implant surgery at Premier Periodontics, you may notice some short-term inflammation in your mouth and face, as well as bruising, discomfort, and minor bleeding. Our clinical team will provide you with information on what is to be expected and when to contact our office to report symptoms. We may also write a prescription for pain relievers or recommend over-the-counter pain relievers to keep you comfortable while you recover. Over the next several months, your jawbone will grow solidly around your dental implants, providing a strong foundation for your replacement teeth. Once your dental implants are integrated and your customized restoration has been connected, it is important to keep up with a good daily home care routine with meticulous brushing and flossing habits.
Does Insurance Cover Dental Implant Surgery?
Dental implant surgery procedures may be covered at varying levels by individual insurance plans. Prior to the day of your procedure, our business staff will gather information about your individual plan and let you know of your estimated personal costs for your treatment. Premier Periodontics wants you to get the specialized care you need and strives to provide high-quality services that are affordable for Seattle dental implant patients. We are pleased to accept an array of easy payment options, including special 12-month financing and CareCredit® plans for dental implant procedures.
Do dental implants really work like natural teeth?
Dental implants are often a preferred solution for tooth loss because they mimic the function, appearance, and feel of natural teeth. Implants can also offer increased biting stability over removable tooth replacement options, such as full or partial dentures. Thanks to advancements in technology, dental implants can often function within 90% of the efficiency of real teeth in terms of how they feel as well as their biting and chewing ability.
How soon can I eat after getting a dental implant?
Our implant specialists in Seattle, WA, may recommend a soft-food diet following your dental implant surgery and until your implant restoration is ready to be placed. Once your dental implant is complete and your crown, bridge, or denture has been securely attached, you can enjoy your favorite foods, and you will typically have few (if any) dietary restrictions.
How long do dental implants last?
Dental implants can be a long-lasting tooth replacement option when they are cared for properly and may even last a lifetime for some patients. They are also impervious to decay and will not develop cavities. While the dental implant screw may never need to be replaced, the implant restoration might require replacement over time due to natural wear and tear in the mouth. To help ensure your implant lasts as long as possible, it is important to maintain good oral hygiene each day as recommended by your implant surgeon and general dentist, follow any guidelines given by your dental team, attend routine visits for cleanings and exams, and maintain a healthy lifestyle.
How much does a dental implant cost?
The cost of dental implants in Seattle, WA, varies among patients and from case to case. Factors that affect the price of implants include the number of teeth to replace, the type of restoration chosen, and whether or not any preparatory procedures are required (such as bone grafting). In general, however, the cost of an implant is often comparable to that of fixed a dental bridge.
A Long-Term Option for Tooth REplacement
Implants with custom restorations are highly preferred by many patients for their ability to mimic natural teeth and provide long-term tooth replacement results. Whether you need to replace anywhere from one tooth to an entire arch, we invite you to meet with our talented implant surgeons and learn if this option might be right for your smile. If you are in need of dental implants in Bellevue, WA or other communities throughout Greater Seattle, please contact our specialty team today to schedule your appointment at Premier Periodontics.
Related Procedures
Related Posts