What Is a Dental Implant?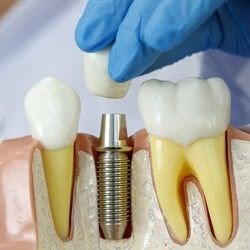 If you are looking for a long-lasting solution to replace a missing tooth or teeth, dental implants from Premier Periodontics may be a great choice. Dental implants are biocompatible posts often made of titanium and surgically placed in the upper or lower jawbone to replace the natural tooth root. One or more implants can be placed to support a natural-looking crown, bridge, or denture for a beautiful restoration that can be used just like your natural teeth. Dental implants look, act, and feel just like real tooth structure and may be used to overcome the loss of teeth in the front or back of the mouth. To fix a gap in your smile or restore your ability to eat and speak comfortably after tooth loss, make a consultation at Premier Periodontics to learn if you are a candidate for implant dentistry. Our team of board-certified surgeons uses state-of-the-art procedures to perform implant surgery and is pleased to offer implant solutions to patients in the Bellevue, WA area.
Dental Implants Reviews
"I had a very good experience with Dr. Dkeidek who removed a tooth and installed an implant on the same day.  It was my 1st tooth pulled as an adult and I was nervous. They gave me a pill and of course numbed the area and I DID NOT FEEL A THING!  I was amazed and thrilled!"
- A.B. /
Yelp /
Jan 14, 2019
"Best place in Redmond for dental implants in my opinion. Thank you Dr. Dkeidek and team! You make me feel welcome every time I visit and your work is absolutely excellent."
- M.N. /
Google /
Dec 03, 2016
"Premier Periodontics is an exceptional office. I'm in the dental field and have worked in a lot of dental practices. I have also personally experienced implants and periodontal procedures from other dentists. Dr. Fernyhough is highly skilled and uses the most up to date Technics. He has a great chair side manner and is also a genuinely caring person. I feel so fortunate to have found this office because I will need their expertise for future procedures. Thank you Dr. Fernyhough and Staff."
- R.D. /
Google /
Dec 03, 2017
"Where have these two ladies been my entire life? Maryjo and Anja at Premier Periodontics, are the absolute best dental hygienist I have ever had! I had a dentist for 35 years who died in a ski accident and I was pushed out of my comfortable dental nest, so to speak, so I had the opportunity to find a new provider. My teeth were basically well cared for and I had no periodontal needs but I wanted to be proactive and research what was available. What about gum disease? What about implants that all my friends of a certain age are talking about? So, I made an appointment at the Bellevue office of Premier Periodontics which was comfortable, friendly and welcoming but not ostentatious. I had my teeth cleaned like they have never been cleaned before, and my gums mapped for recession. The advancements in dental care were fascinating and Dr. Dkeidek throughly examined my teeth and presented a plan of how I could better care for them. He also answered my many questions thoroughly and patiently. I was to have my teeth cleaned every 4 months to prevent further plaque build-up or recession of my gums. That was it! There was no hard sell to do any advanced procedures nor pressure to sign up for a package deal. I left the office smiling with a sense of receiving the best professional dental care available."
- P.S. /
Google /
Dec 03, 2016
"Dr Toloue is great doing my implant."
- S.F. /
Google /
Feb 06, 2020
Previous
Next
Who Is a Good Candidate for Dental Implants?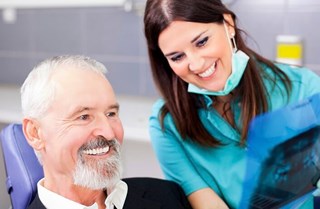 Implants can replace a single missing tooth, several missing teeth, or a whole missing arch with an implant-supported crown, bridge, or denture. You may prefer a dental implant if you have a traditional bridge or denture tooth replacement but are dissatisfied with its look, fit, or comfort. Dental implants can be cleaned just like your natural teeth with daily flossing and brushing and routine care from your general dentist. During your dental implant consultation, our periodontists will assess the health of your gums and jawbone to determine if a dental implant is a viable option. In some cases, a bone graft may be completed prior to implant surgery to strengthen the foundation necessary for long-term implant success. Dental implant surgery may not be suitable at this time if you are pregnant, use tobacco products, have certain medical conditions, or are being treated for another issue, like periodontal disease.
What Is the Dental Implant Process?
During your implant consultation, our team will take advanced 3D cone beam images of your mouth and jaw to gain an understanding of your oral health and tooth replacement needs. This highly detailed image will also allow us to precisely plan where to position your dental implant posts within your jaw. Before the dental implant is placed, you may have damaged teeth extracted from your jaw and a bone graft performed. In a number of cases, we can remove a tooth, perform a bone graft, and place a dental implant all within the same visit.
As soon as your mouth is ready for the implant to be placed, local anesthesia will be administered to the treatment area to numb your mouth. Sedation methods may be used to keep you comfortable throughout the treatment. Our skilled surgeons will make an incision in your gum and prepare your jawbone to receive the implant using the minimally invasive Densah Protocol. This advanced approach can enhance the stability of your implant and encourage a faster healing response. Once we place the titanium post in the jawbone, the incision will be closed with part of the post above the gumline. The process will continue if multiple implants are required.
What Can I Expect After Dental Implant Placement?
As the implant integrates into the bone and gum over the next few months, a temporary restoration may be used to protect the post and maintain your oral needs. When our team determines that the dental implant is healed into your jaw and gums, your restorative dentist can then create your custom restoration (crown, bridge, or denture) and attach it securely to your implant post(s).
Following your dental implant surgery, you may notice some short-term inflammation in your mouth and face, as well as bruising, discomfort, and minor bleeding. Our clinical team will provide you with information on what is to be expected and when to contact our office to report symptoms. We may also write a prescription for pain relievers or recommend over-the-counter pain relievers to keep you comfortable while you recover. Over the next several months, your jawbone will grow solidly around your dental implants, providing a strong foundation for your replacement teeth. Once your dental implants are integrated and your customized restoration has been connected, it is important to keep up with a good daily home care routine with meticulous brushing and flossing habits.
Does Insurance Cover Dental Implant Surgery?
Dental implant surgery procedures may be covered at varying levels by individual insurance plans. Prior to the day of your procedure, our business staff will gather information about your individual plan and let you know of your estimated personal costs for your treatment. Premier Periodontics wants you to get the specialized care you need and strives to provide high-quality services that are affordable for our patients. We are pleased to accept an array of easy payment options, including special 12-month financing and CareCredit® plans for dental implant procedures.
A Long-Term Option for Tooth REplacement
Implants with custom restorations are highly preferred by Bellevue, WA patients for their ability to mimic natural teeth and provide long-term tooth replacement results. Whether you need to replace anywhere from one tooth to an entire arch, we invite you to meet with our talented implant surgeons and learn if this option might be right for your smile. Get in touch with our specialty team today to make your appointment at Premier Periodontics.
Related Procedures
Related Posts