What Is Scaling and Root Planing?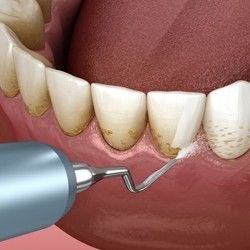 If you have periodontal (gum) disease, a normal cleaning might not be adequate enough to address your oral health needs. The beginning stage of gum disease, gingivitis, can often be treated with thorough cleanings and improved home care efforts. But when gum disease progresses to the periodontitis stage, scaling and root planing (SRP) therapy may be necessary to treat your periodontal needs. This noninvasive procedure at Premier Periodontics is performed to stop gum disease from causing further damage in your mouth by removing built-up tartar and plaque from under the gumline. With specialized instruments and highly skilled techniques, SRP planing treatment from our experienced team smoothes the root surfaces of your teeth, creating clean surfaces to which your gums can heal and reattach. To keep gum disease from placing your health at further risk, get in touch with our Bellevue, WA, periodontal practice, and schedule your treatment consultation today.
What are the benefits of Scaling and Root Planing?
SRP helps to address periodontitis concerns and improve oral health. The benefits of undergoing this procedure in our dental office include:
Cleaning the gums to better protect them from tooth loss
Safeguarding against a more serious infection
Helping prevent the need for future invasive procedures
Enhancing the look of your smile
Stopping the progression of gum disease so your gums can heal
Contact our dental team to schedule a consultation for more information about this treatment. We look forward to helping you revitalize your smile and treat gum disease to improve your dental health.
Scaling and Root Planing Reviews
Do I Need Scaling and root Planing?
Patients who require scaling and root planing to treat periodontitis often have symptoms, like bleeding or swollen gums, bad breath, and gums that are starting to pull away from the teeth (gum recession). During your periodontal examination, our team will measure the depth of your periodontal pockets (spaces between the gums and teeth). In the event that your pockets are deeper than three millimeters and bone loss in your jaw can be seen on your x-rays, SRP treatment may be recommended. Advanced cases of gum disease may require a more surgical approach to reach deeper areas of infection. If you are in need of scaling in root planing in Seattle, WA, or the surrounding areas, please contact our team for a consultation.
What Does Scaling and Root Planing INvolve?
SRP is a nonsurgical, deep periodontal cleaning that can be carried out in our office under local anesthesia. We may also suggest sedation techniques if you feel worried or nervous when undergoing dental care. To make your SRP procedure most effective, we may use a perioscope, which is a small camera placed beneath the gumline to allow our clinicians to see (rather than just feel) areas of plaque and tartar accumulation. Using our refined technique, we will remove this buildup from the surfaces of the teeth and smooth the roots to create an even surface. We may also place a special type of antibiotic into your periodontal pockets to further minimize bacterial growth in treatment areas. As the gums heal, they should reattach to the roots and minimize the depths of the pockets between the teeth and gums. Depending on your needs, you may need between 1 – 4 visits to complete your SRP procedure.
You may notice minor gum tenderness and tooth sensitivity following your SRP procedure. It may be helpful to take over-the-counter pain relievers to reduce any discomfort. After completing your periodontal disease treatment, it is very important that you keep up with periodontal maintenance visits every 3 – 4 months. These visits may be alternated between Premier Periodontics and your general dentist and will serve to help control your gum condition and minimize the risk of further damage. Oral hygiene tips on how to best perform daily flossing and brushing at home will be provided by our friendly and knowledgeable team.
Is Scaling and Root planing Covered by Insurance?
SRP is a very common gum disease treatment and is often covered in part by dental insurance. Our team will get in touch with your carrier to review your policy and estimate your individual costs. If you do not have dental insurance or have financial responsibility for your care, Premier Periodontics accepts numerous payments, including medical financing, which can be presented during your consultation.
Scaling and Root Planing FAQ
Does scaling and root planing hurt?
Our team will take steps to help ensure your comfort during your SRP treatment. We typically numb the gums with a local anesthetic to minimize any discomfort throughout the procedure. Following SRP, your gums may feel tender for a few days, but this is often mild and should subside on its own. Our Premier Periodontics team can recommend tips on how to manage any symptoms following your gum disease treatment.
Can I eat after scaling and root planing?
Once your periodontal cleaning is complete and the anesthesia has worn off, you are free to eat. It is best to avoid crunchy, spicy, sticky, or acidic foods for the first few days or until your gums heal.
How often will I need scaling and root planing?
Some patients need scaling and root planing treatment once in their lifetime, while others may require it every few years. Maintaining excellent oral care at home, keeping up with your dental checkups, and attending periodontal maintenance visits as recommended by your periodontist can help minimize the need for gum disease treatment in the future.
Nonsurgical Gum Disease Treatment
Gum disease can be progressive and harmful to your health if left untreated. Addressing the condition as early as possible can help minimize your need for more extensive care and keep your smile in great shape over the long term. Get in touch with Premier Periodontics in Bellevue, WA, to learn more about nonsurgical SRP and other options ideal for meeting your oral health needs. Our team is proud to provide scaling and root planing to Seattle-area patients.
Related Procedures
Related Posts