What Is Dental Implant REvision?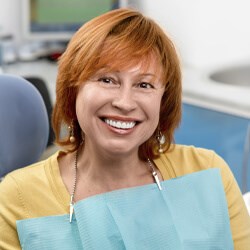 Dental implants offer an excellent way to replace teeth that are missing, extracted, or irreparable. Implants are generally very effective and carry a high rate of success when placed using advanced techniques and technologies. In a small percentage of cases, however, dental implants fail and do not provide the expected long-term benefits to a patient's oral health. This may be due to improper placement, insufficient bone health, peri-implantitis (gum and/or bone infection), or a number of other causes. As exceptionally skilled periodontal and implant experts, our team at Premier Periodontics offers advanced care to help save failing dental implants using the LAPIP Protocol and other refined techniques. Get in touch with our board-certified team in Bellevue, WA right away for a dental implant revision consultation if you are experiencing problems with your implant or surrounding tissues.
Dental Implant Revision Reviews
"I had 2 teeth removal and 2 implants installed by DR. Eirleen Hyun, and her assistants Candice, and Louisa at the Everett office. I never felt the needle with the anesthetic, and they made the whole procedures painless, comfortable, and very well done. They not only know how to perform their jobs very well but they are also compassionate, friendly, and easy to talk to. I totally recommend Dr. Hyun, her team, and the office staff."
- B.V. /
Google /
May 13, 2022
"I had implants and a gum graft at Premier Periodontics. Everyone has been great @ the Kirkland Office , especially and Dr Hyun, Lourisa and Brandon. the procedure went smoothly and they made sure I was comfortable and all of my questions were answered."
- K.G. /
Google /
Jul 25, 2022
"Dr. Hyun and Lourisa were amazing! So kind and sweet! They did a great job with the implants! They look great care of my mom and would recommend them to everyone!"
- S.M. /
Google /
Aug 19, 2022
"I had implants and a gum graft at Premier Periodontics. Everyone has been great @ the Kirkland Office , especially Dr Hyun, Lourisa and Brandon. the procedure went smoothly and they made sure I was comfortable and all of my questions were answered."
- K.G. /
Google /
Aug 27, 2022
"Doctor Huyn-Ba and Louria did and excellent job placing my implants. The procedure took two hours, as I knew it would, and they continued to ask me if I was ok and if I needed a break. They both explained every step as they were happening, being as gentle as possible. Highly recommend Premier Periodontics. Also BIG shout out to Chrissy and Christina, reception staff. So helpful and friendly. Talking with Chrissy really put me at ease having this done."
- K.B. /
Google /
Jan 21, 2023
Previous
Next
When Is Dental Implant Repair Needed?
Dental implant revision may be needed if you are experiencing the signs or symptoms of implant failure. Several types of conditions may lead to failed implants, including inadequate bone support, an infection similar to gum disease known as peri-implantitis, improper oral hygiene, or a poor systemic response to your implant. When this occurs, your implant or bite may feel different, or you may experience one or more of the following indications:
Bleeding or inflammation
Implant mobility
Loss of bone support
Exposed implant post
Biting discomfort
What Is the Dental IMplant Revision Process?
Our skilled periodontists use advanced 3D imaging techniques to evaluate the state of your dental implants and support level of the gum and bone surrounding it. We may perform an advanced laser technique known as the LAPIP Protocol to alleviate any infection in the tissues surrounding the implant and stimulate the growth of bone support. Along with this approach, our surgeons may add bone grafting materials and growth factors to the implant site to strengthen its support and long-term health. In some instances, we may need to repair improperly placed implants or remove them altogether and reposition the posts using the latest in guided implant surgical techniques.
How Can I Care for My Mouth After Dental Implant Repair?
With a meticulous approach and a breadth of advanced surgical expertise, we can often save dental implants and the investment you have made in your oral health. Specific instructions on how to care for your implant sites as you heal and in the future will be provided following your implant revision procedure. Keeping up with thorough home care efforts and maintaining regular dental cleanings and exams will be essential to the longevity of your tooth replacement following your procedure. Our team will provide helpful tips on how you can preserve the health of your implants moving forward.
Is Implant Revision Covered by Dental Insurance?
Dental insurance plans may only provide limited coverage for implant revision procedures. However, Premier Periodontics is pleased to offer special financing and accepts a range of convenient payment solutions to help you get the care needed to save your implant. Before getting started, our financial team will review your estimated costs with you and assist you in finding an affordable payment option.
Dental Implant Revision FAQ
What is the main reason dental implants fail?
There are a variety of reasons dental implants could fail, but most often, we see dental implant failure due to infection or bone loss. This post-implant infection can usually be prevented with good oral hygiene.
What are some implant failure symptoms?
If you start to experience significant pain or discomfort at or around your implant site, you may be experiencing implant failure. Other signs include swollen or inflamed gums or a loose implant.
What should I do if I notice my implants are failing?
You'll want to contact our implant dentists in Bellevue, WA, as soon as you notice signs of implant failure so we can try to save your failing dental implants. Once we get a better idea of why your implants are failing, we can create a treatment plan for dental implant repair.
Dental Implant Repair Near Seattle, WA
We understand the investment you make in your oral health when choosing dental implants for tooth replacement. As a skilled surgical team, we want to help save failing dental implants and restore health and wellness to your smile. If you are experiencing problems with your implant, get in touch with Premier Periodontics in Bellevue, WA today to learn more about your treatment options for successful dental implant revision.
Related Procedures
Related Post