What Is Gum Recession Treatment?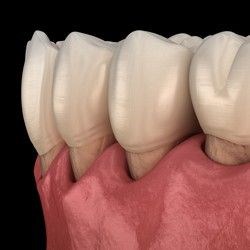 At Premier Periodontics, we are always eager to bring innovative yet effective receding gums treatment to Seattle, WA patients. One of our most minimally invasive procedures is the Chao Pinhole® Surgical Technique (PST) for the treatment of gum recession. Receding gums are a common problem among a wide range of patients and increase the risk of further oral problems while affecting smile aesthetics. Through a very small opening made in the gums, PST gently moves receded tissues back to a more favorable position that covers exposed roots. Our Bellevue, WA, periodontists are certified and trained in the advanced Pinhole Surgical Technique and can help you determine if this no-incision, no-suture approach is the best option for your periodontal health. Find out more about the benefits of Pinhole® Gum Rejuvenation by contacting a Premier Periodontics location near you today.
Gum Recession Treatment Reviews
"Dr D and his assistant (sorry I can't remember her name) made a procedure that is usually not desirable, a very comfortable experience! I had no doubt I was in great hands and I know the outcome will be excellent! I wouldn't hesitate to have any periodontal treatment done again at this office! Thank you for taking such good care of me! The front desk was also very pleasant and kind when I showed up a few minutes late because I got lost haha. The whole office staff was exceptional!"
- J.M. /
Google /
Jun 02, 2023
"From the moment I walked in, the friendly staff made me feel welcomed and comfortable. The office is clean and inviting, which helped put me at ease. Moreover, the office has ample parking, a small private lot in back and lots of street parking, which is always a plus. During my procedure, Dr. Allan Wattimena was very professional and attentive to my needs. He made sure I was comfortable throughout the entire process and took the time to answer any questions I had. Overall, I would highly recommend Dr. Allan and his team to anyone in need of periodontal care. They truly go above and beyond to provide top-notch service."
- G.C. /
Google /
Jun 02, 2023
"Dr. Ghadri and his staff have helped me so much! They worked magic in stablizing my periodontal disease. It's almost fun going there! Everyone is so friendly and caring. I love the staff - my hygienist Liz, assistants Sadie, Maggie, and Kabrena, and admins Dianna and Sandra. They all help to make it a pleasant and worry-free experience. Thank You all at Premier Periodontics!"
- G.H. /
Google /
Jun 09, 2023
"Dr. Samira Toloue and her fabulous team performed impeccable work on my implant. This was my first implant, I couldn't have asked for an easier more pleasant experience, they made the entire process from beginning to end as comfortable as one could possibly ask for given the nature of such a procedure. I will absolutely seek out Dr. Toloue and Team should I require any periodontal care in the future."
- G. /
Google /
Sep 08, 2023
"Had a very pleasant experience with a scaling and root planing appointment. Shawn was very pleasant, informative and gentle. I would highly recommend Premier Periodontics!"
- S.F. /
Google /
Sep 11, 2023
Previous
Next
What are the benefits of gum recession treatment?
The benefits of gum recession surgery do more than improve your smile. Some of these benefits include:
Reducing tooth sensitivity: Once tooth roots become exposed, they can be highly sensitive to touch and to hot and cold foods. Gum grafting surgery covers these exposed areas with healthy gum tissue, which can reduce the discomfort of sensitive teeth.
Exposed root coverage: When the roots are exposed, they are at increased risk for decay. A gum graft can reduce the risk of root decay and help protect the root surfaces from damage.
Improved periodontal health: Gum recession treatment replaces damaged gum tissue, improving periodontal health. With healthy and strong gum tissue, plaque cannot as easily get underneath the gums and cause cavities.
Enhance the look of your smile: Adding gum tissue to your teeth helps improve the aesthetics of your smile. It can make your gums look even and natural. With an improved smile, your looks and confidence can improve.
Please reach out to our team if you're looking for receding gums treatment in Seattle, WA. We can help you improve your oral health and your smile.
Am I a Candidate for the Pinhole Surgical Technique?
Gum recession is the process of gum tissues pulling back and shrinking away from the teeth. When this happens, the roots of the teeth become exposed to the oral environment and are at an increased risk for cavities and other types of damage. PST can be a great way to treat receding gums, which may be identified by:
Teeth that look longer than before
Teeth sensitive to temperature and sweets
Changes in smile aesthetics (an aging smile)
Dark spaces between teeth (near the gums)
Discolored or yellow tooth structure (near the gums)
As a less invasive procedure, the Pinhole Surgical Technique at Premier Periodontics may also be ideal for Seattle-area patients who cannot undergo traditional gum grafting surgery and those with multiple areas of gum recession. This procedure can often treat the entire mouth in just a single 3 to 4-hour session.
How Does Pinhole Gum Rejuvenation Work?
Though Pinhole Gum Rejuvenation is minimally invasive, our periodontal specialists will numb the treatment areas with a local anesthetic and can provide sedation options to enhance your comfort if you prefer. Our skilled periodontists will then make a very small, pinhole-sized opening in the gums. We will work through this entry point to loosen the gums from their receded position and move the gumline to effectively cover the tooth roots. Returning the gumline to a healthier position with PST gum surgery offers immediate protection for these at-risk surfaces and enhances the cosmetic appeal of the smile. To finish the procedure, thin pieces of collagen are then placed between the teeth and gums to hold the gumline in its new location as it heals.
What Can I Expect After Gum Recession Treatment?
The recovery period following Pinhole Gum Rejuvenation at Premier Periodontics is minimal and requires very little downtime. However, the aesthetic results are nearly immediate, and the gum tissues heal rather quickly. Minor swelling may be noticeable in the first few days following the procedure. Our team will provide helpful tips on how to care for your teeth and gums during the short recovery process.
Does Insurance Cover REceding Gums Treatment?
Treatment for gum recession with the Pinhole Surgical Technique may be covered under a number of dental insurance plans. Our business team will review your benefits and help you maximize your coverage for your periodontal care, and then provide an estimate on what your out-of-pocket costs may be. Premier Periodontics is dedicated to offering affordable gum recession care to Bellevue, WA individuals without compromising on quality. We accept a range of easy payment options, including special patient financing plans.
Gum Recession Treatment FAQ
How can I prepare for receding gums treatment?
Generally, we recommend having your teeth cleaned about a week prior to your gum recession surgery to remove any plaque, tartar, or stain accumulation from your teeth. During your consultation at Premier Periodontics, our team will provide you with detailed instructions on how to further prepare your mouth for Pinhole Gum Surgery.
How many Pinhole gum surgery sessions will I need to treat receding gums?
Receding gum treatment with PST can often be completed in a single visit. However, multiple visits may be required depending upon the number of teeth that are in need of gum recession treatment. Thanks to the minimally invasive nature of the procedure, our periodontists can often treat multiple teeth within one appointment. If you need receding gums treatment in Seattle, WA, or the surrounding areas, talk with our team to learn how many sessions you may need.
Is gum recession surgery painful?
Our team takes great care to ensure treatment comfort when treating receding gums. Before beginning the procedure, we will gently numb the gum tissues with a local anesthetic to keep you comfortable throughout your visit. There are no sutures required for the Pinhole Surgical Technique, and most patients find any post-operative discomfort to be minimal.
How can I maintain my Pinhole Gum Rejuvenation results?
It is important to maintain excellent homecare with daily brushing and flossing as well as routine dental cleanings as recommended by our periodontal team. We will also help you determine and address the cause of your gum recession so that you may best preserve your treatment results. Additional suggestions may be recommended, such as avoiding tobacco use, preventing bruxism (clenching and grinding), and avoiding oral piercings, among others.
Treat Receding Gums With Specialty Care
Gum recession causes oral health risks, an aging smile, and other damaging effects. As leading periodontal specialists, we are proud to offer the minimally invasive Pinhole Surgical Technique to Seattle, WA patients. If your gums are receding and affecting your health and smile, contact one of our periodontal offices in Redmond, Bellevue, or nearby communities to schedule a consultation with one of our board-certified periodontists.
Related Procedures
Related Posts