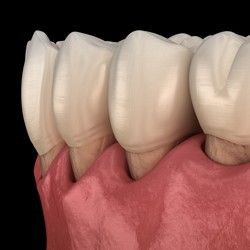 At Premier Periodontics, we are always eager to bring the most innovative yet effective care to patients in the Bellevue, WA area. One of our most minimally invasive procedures is the Chao Pinhole® Surgical Technique (PST) for the treatment of gum recession. Receding gums are a common problem among a wide range of patients and increase the risk of further oral problems while affecting smile aesthetics. Through a very small opening made in the gums, PST gently moves receded tissues back to a more favorable position that covers exposed roots. Our team is certified and trained in the advanced Pinhole Surgical Technique and would love to help you determine if this no-incision, no-suture approach is the best option for your gum recession needs. Find out more about the benefits of Pinhole Gum Rejuvenation by talking with our knowledgeable team today.
Reviews
"They are very high end efficient, compassionate, incredibly knowledgeable about so many aspects of dentistry I really cannot say enough praise. You are in GREAT hands under dr. Samira Toloue . The hygienist I used Had a level of equipment I've never even seen before and gotten great results from. I know nothing about the other team of Dentists. Susan Samuelson"
- S.S. /
Google /
Feb 08, 2020
"Very friendly and professional. They have state of the art equipment. My examination was very thorough. Will be coming back to start a series of treatments next month."
- M.K. /
Google /
Feb 07, 2020
"Everyone was very nice and very helpful,Tracy and Dianna and Becca were especially helpful,Darlene Valdez"
- A.V. /
Google /
Feb 07, 2020
"Wonderful, professional staff, as always. Definitely recommend premier periodontics in Olympia. Thanks for the years of excellent dental care you've provided for me, for my wife, and for my father."
- P.M. /
Google /
Feb 07, 2020
"Dr Toloue is great doing my implant."
- S.F. /
Google /
Feb 06, 2020
Previous
Next
Gum recession is the process of gum tissues pulling back and shrinking away from the teeth. When this happens, the roots of the teeth become exposed to the oral environment and are at an increased risk of developing cavities and sustaining other types of damage. PST may be a great option for your periodontal needs if you have gum recession, which may be identified by:
Teeth that look longer than before
Teeth sensitive to temperature and sweets
Changes in smile aesthetics (an aging smile)
Dark spaces between teeth (near the gums)
Discolored or yellow tooth structure (near the gums)
As a less invasive procedure, PST may also be ideal for patients who cannot undergo traditional gum grafting surgery and those with multiple areas of gum recession. This procedure can often treat the entire mouth in just one 3 to 4-hour treatment session.
Though PST is minimally invasive, our team will numb the treatment areas with a local anesthetic and can provide sedation options to enhance your comfort if you prefer. Our periodontists will then make a very small, pinhole-sized opening in the gums. We will work through this entry point to loosen the gums from their receded position and move the gumline to effectively cover the tooth roots. Returning the gumline to a healthier position with PST offers immediate protection for these at-risk surfaces and enhances the cosmetic appeal of the smile. To finish the procedure, thin pieces of collagen are then placed between the teeth and gums to hold the gumline in its new location as it heals.
The recovery period following Pinhole Gum Rejuvenation is minimal and requires very little downtime. However, the aesthetic results are immediate and the gum tissues heal rather quickly. Minor swelling may be noticeable in the first few days following the procedure. Our team will provide helpful tips on how to care for your teeth and gums during the short recovery process.
PST treatment for gum recession may be covered under a number of dental insurance plans. Our experienced business team will review your coverage and help you maximize your coverage for your periodontal care, and then provide an estimate on what your out-of-pocket costs may be. Premier Periodontics is dedicated to offering affordable specialty care without compromising on quality and accepts a range of easy payment options, including special patient financing plans.
Gum recession leaves behind oral health risks, an aging smile, and other damaging effects. As a leading periodontal team, we are proud to offer minimally invasive PST, the latest in advanced gum recession care. If your gums are receding and affecting your health and smile, we invite you to contact our Bellevue, WA practice and schedule a consultation to meet with one of our skilled, board-certified periodontists.
Related Procedures