sterilization and hygiene assistant
Sterilization and Hygiene Assistant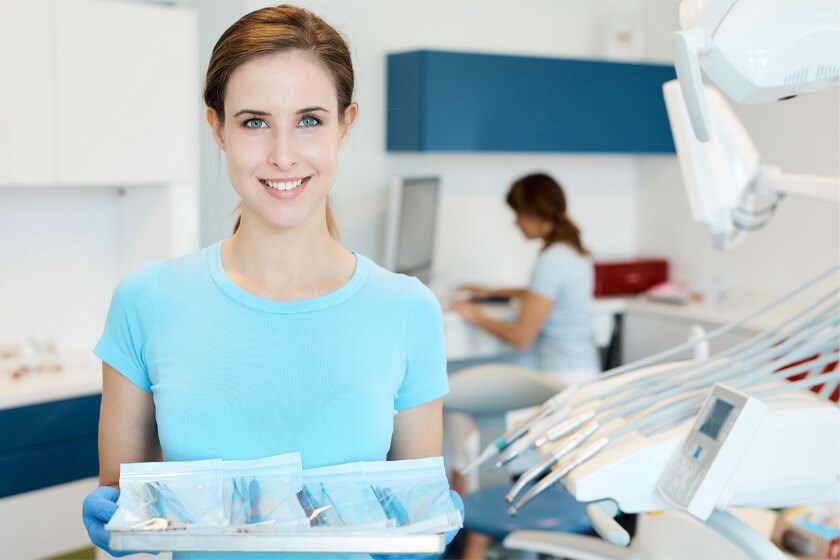 Summary/objective
The role of a Sterilization and Hygiene Assistant is to assist the clinical staff in the clinical setting. Their main priority is to ensure excellent patient care, maintain safety standards, and be a resource for all clinical staff. This job description outlines the essential functions of the Sterilization Technician position and the competencies that the Sterilization and Hygiene Assistant position is held accountable to.

Essential functions

Provides customer service support to patients by escorting them to and from the treatment room and prepping them for care.
Removes all instruments and tools from treatment room after use and processes them for sterilization.
Assists in preparing trays and setting up for all procedures.
Cleans and sets up treatment rooms for scheduled procedures.
Prepares, Decontaminates, and disinfects instruments, tray set up and instrument sterilization.
Records treatment information on patient charts.
Secondarily assists front desk personnel and performs administrative duties when needed.
Chairside assists Lead Surgical Assistant and/or Hygienists when needed to ensure patients receive the best care.
Manages general house cleaning tasks.
Break down and set up operatories.
Assist in New Patient process as needed.
Maintains plaster trap and lab counter areas.
Help maintain office and clinic cleanliness.
Maintains OSHA/WISHA, Aseptic Technique, HIPAA according to compliance and company protocols.
Performs routine maintenance of dental equipment including but not limited to: autoclave, statim, compressor, vacuum, amalgam separator, ultrasonic cleaner, etc.
Performs daily and weekly waterline maintenance.
Laundry service as needed.
Weekly spore testing submission and recording per company policy and procedure.
Submission of broken instruments and handpieces for repair.
Maintain MSDS binder.
Maintain safety equipment (Fire extinguishers, eyewash equipment, AED, emergency signage, etc.)
Dismiss sedation patients utilizing wheelchairs and proper techniques.
Identify expired clinical materials and reorder as needed.
Maintain and service office equipment as needed: toner, air filters, gas cylinders, etc.
Maintain appropriate stock of dental supplies while being mindful of not overstocking and staying within budget.
Familiarity with each doctor's tray set up preferences.
Inspect, assemble and test specialty equipment for proper function and alert office lead of anything that requires attention.
Document and maintain accurate sterilization records.
Able to lift up to 50 lbs.
Collect, store and ensure proper disposal of biohazards and sharps waste.
Be knowledgeable of spill containment and clean up.
Competencies
Proficiency in x-rays, CBCT, and patient charting
Attention to Detail
Physical demands: stooping, bending, squatting, kneeling, and constant/repetitive standing.
Supervisory responsibilities
None
Work environment
Clinical - Possible exposure to body fluids, chemicals, radiation.
Required education and experience
High School Diploma or equivalent
Dental Assistant License preferred
1 year of dental experience required
BLS certification