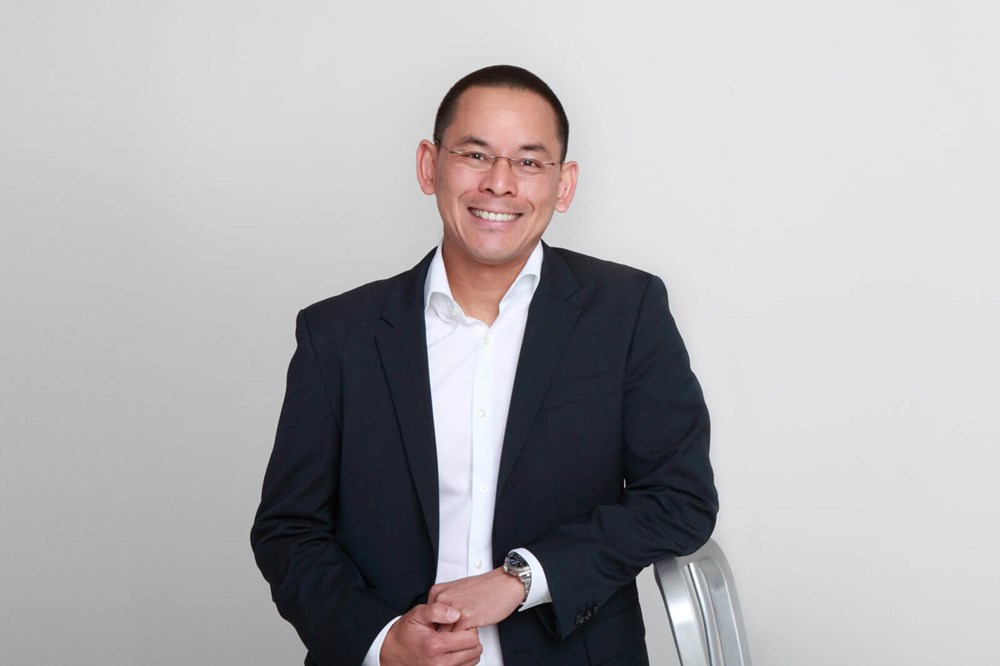 As a board-certified periodontist, Dr. Huynh-Ba brings the highest standard of specialty periodontal and implant care to the patients he is privileged to treat. He is a prominent clinician, author, and professor and has committed his career to impart his wisdom and expertise upon the next generation of general practitioners and periodontal specialists. Dr. Huynh-Ba believes that patient care is best performed utilizing a team approach, making Premier Periodontics the perfect location for delivering the excellence his patients deserve. He treats every individual as though they are a member of his family, which is a guiding force in his approach to periodontics and implant dentistry.
Dr. Huynh-Ba earned his doctor of dental surgery degree from the University of Geneva in Switzerland. After practicing as a general dentist for a few years, he went on to undergo specialty training and received certification in the field of periodontics at the University of Bern, also in Switzerland. During this time, Dr. Huynh-Ba completed his Master of Science degree before moving to San Antonio, TX where he acquired his second periodontics degree from the world-renowned program at the University of Texas Health Science Center at San Antonio, TX.
Dedicated to advancing the fields of periodontics and implantology, Dr. Huynh-Ba is an esteemed member of the following professional societies:
American Academy of Periodontology
International Team for Implantology - Fellow
American Dental Association
American Dental Education Association
International Association for Dental Research
Southwest Society of Periodontists
Texas Dental Association
San Antonio District Dental Society
Swiss Society of Periodontology
Certifications and Expertise
As a highly credentialed periodontal and implant specialist, Dr. Huynh-Ba has acquired a vast expanse of expertise throughout the course of his career. He has advanced certifications from a number of prestigious organizations and institutions:
Diplomate of the American Board of Periodontology (Board Certification)
Swiss Board Certification in Periodontology (SSP)
European Federation of Periodontology (EFP) Board Certification in Periodontology
Professor, University of Texas Health Science Center at San Antonio, TX
Dr. Huynh-Ba was born and raised in Switzerland and relocated to Seattle with his wife, Dr. Eirleen Hyun, a few years ago. Growing up near the Alps, he developed a deep love for skiing; however, his greatest passion is playing tennis with his twin brother who still lives in his hometown of Lausanne, Switzerland. During his free time, Dr. Huynh-Ba likes spending time outdoors biking, running, hiking, and playing tennis. He and his wife also share a love for traveling to new places around the world.
Reviews
"Dr. Madden and her staff are prime examples of gentle, caring, and professional practitioners who place their patients first.  I continue to be impressed with their approach to treatment, and follow-up.  I am a patient who has very serious gum problems, and because of Dr. Madden's early diagnosis, I am on the way to a healthier and stable oral situation.  I can not say enough about Dr. Madden and her staff, who clearly devote their time to making the patient feel safe and in knowledgeable hands."
T.S.
Yelp
"I was very impressed with Premier Periodontics. I've been to many dental offices in my life and my visit with them was one of the best. Dr. Dkeidek is such a nice guy. My Implant procedure was fast and comfortable. I highly recommend their services."
H.S.
Google
"I am very impressed with the professionism of the staff at Premier Periodontics. My first visit began with a thorough examination which was followed by a discussion with Dr. Huynh-Ba regarding appropriate treatment options. He was very patient and took time to fully answer my questions. He then provide me with a plan for the treatment and follow up.My operation took place on my second visit. Dr. Huynh-Ba, Megan and Ellie were all very attentive to my comfort during the procedure.After the procedure, Dr. Huynh-Ba gave me several prescriptions for antibiotics, pain and inflammation. He also gave me a very helpful post-operation document addressing do's and don't's to facilitate a quick recovery. Also, before leaving, he provided me with another opportunity to ask questions.Today, May 3, 2019, is the day after my operation and the pain is gone. I attribute that to the prescriptions and instructions provided by Dr. Huynh-Ba.I found that the Premier Periodontics staff is professional, friendly and caring. Also, on both occasions, my time in the waiting room was short. Given my experience, I highly recommend the services of Premier Periodontics."
E.H.
Google
"For someone who has had a lifetime of dental problems and a bad experience with another dental office, Premier Periodontics has been an absolutely blessing. Not only are they top-notch doctors (Fernyhough is the best!) and top-notch staff, they truly care about their patients. I highly recommend them and will be forever grateful~"
M.J.
Google
"Had dental grafting done here by Dr Guy Huynh-Ba, who explained the process to me very well, and the surgery went smoothly. The staff members were friendly and any issues were addressed on the spot.If this is a regular business I would say 'I would come back again', but you get the idea, this is a great place to get your gum problems taken care of"
M.M.
Google
Related Posts