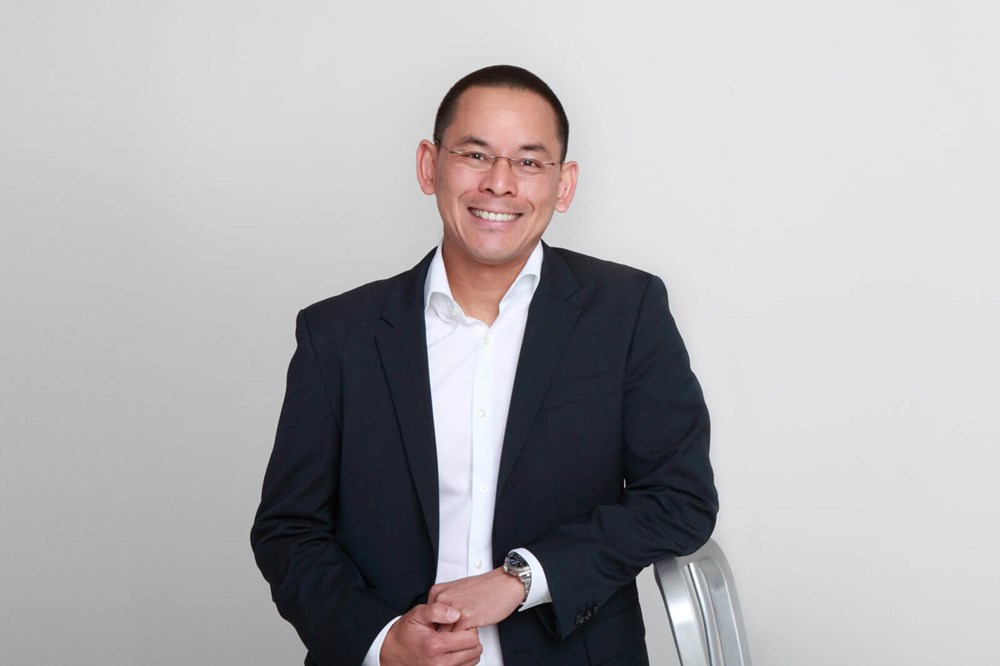 As a board-certified periodontist, Dr. Huynh-Ba brings the highest standard of specialty periodontal and implant care to the patients he is privileged to treat. He is a prominent clinician, author, and professor and has committed his career to impart his wisdom and expertise upon the next generation of general practitioners and periodontal specialists. Dr. Huynh-Ba believes that patient care is best performed utilizing a team approach, making Premier Periodontics the perfect location for delivering the excellence his patients deserve. He treats every individual as though they are a member of his family, which is a guiding force in his approach to periodontics and implant dentistry.
Dr. Huynh-Ba earned his doctor of dental surgery degree from the University of Geneva in Switzerland. After practicing as a general dentist for a few years, he went on to undergo specialty training and received certification in the field of periodontics at the University of Bern, also in Switzerland. During this time, Dr. Huynh-Ba completed his Master of Science degree before moving to San Antonio, TX where he acquired his second periodontics degree from the world-renowned program at the University of Texas Health Science Center at San Antonio, TX.
Dedicated to advancing the fields of periodontics and implantology, Dr. Huynh-Ba is an esteemed member of the following professional societies:
American Academy of Periodontology
International Team for Implantology - Fellow
American Dental Association
American Dental Education Association
International Association for Dental Research
Southwest Society of Periodontists
Texas Dental Association
San Antonio District Dental Society
Swiss Society of Periodontology
Certifications and Expertise
As a highly credentialed periodontal and implant specialist, Dr. Huynh-Ba has acquired a vast expanse of expertise throughout the course of his career. He has advanced certifications from a number of prestigious organizations and institutions:
Diplomate of the American Board of Periodontology (Board Certification)
Swiss Board Certification in Periodontology (SSP)
European Federation of Periodontology (EFP) Board Certification in Periodontology
Professor, University of Texas Health Science Center at San Antonio, TX
Dr. Huynh-Ba was born and raised in Switzerland and relocated to Seattle with his wife, Dr. Eirleen Hyun, a few years ago. Growing up near the Alps, he developed a deep love for skiing; however, his greatest passion is playing tennis with his twin brother who still lives in his hometown of Lausanne, Switzerland. During his free time, Dr. Huynh-Ba likes spending time outdoors biking, running, hiking, and playing tennis. He and his wife also share a love for traveling to new places around the world.
Reviews
"Premier made me feel comfortable and confident during all my visits. Working with me on my terms and an impossible schedule that is my life....I felt respected and greatful. Top notch medical care with the kindnesses and compassion you and I have always felt we deserve. Thank you to all your staff."
L.
Google
"Dr. Wattimena, Lori and all the staff are amazing! Good job, guys!"
M.S.
Google
"I can't say enough positive things about these very professional and knowledgeable and kind people at Premiere Periodontics. Let's face it. If you are going to see a Periodontist it probably means something is wrong. I was referred to them by Rewards Dental in Burien and I wound up at the Kent location, which was most convenient location for me. I had an appointment with Dr. Ashour. My situation with my tooth implant is not great and he didn't beat around the bush, he told me bottom line what was going on. He was very clear and informative about my circumstances. Which did discourage me, I can't lie. Here's the most important part, though. I left not just with a sense of the reality about things but also with hope and an uplifted spirit that, together as a team, we will figure this out. It's gonna take basically a year to fix the whole thing but I already waited half a year to get this news, no time to delay and I feel empowered to take on this difficult challenge, partly thanks to Premiere.. Sandra at the front desk and Mackenzie were also amazing and incredibly helpful. I can't speak to prices but it seemed roughly what similar work cost me a few years ago at another dentist. They will take your insurance, as well."
J.K.
Google
"I love Shawn at Premier Periodontics Kirkland! Shawn is the absolute best at cleaning my teeth! My gums are doing better since I have been in her care. I highly recommend PPK and Shawn!"
M.C.
Google
"I think for my first visit there the staff was great I had no problems with anyone. Very professional!!!"
L.M.
Google
Related Posts