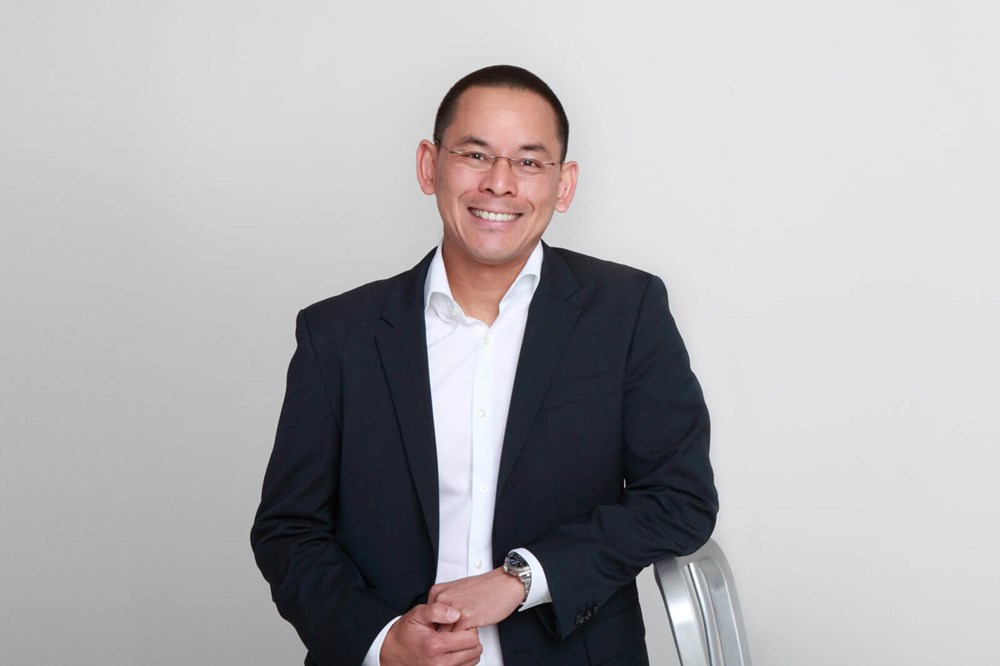 As a board-certified periodontist, Dr. Huynh-Ba brings the highest standard of specialty periodontal and implant care to the patients he is privileged to treat. He is a prominent clinician, author, and professor and has committed his career to impart his wisdom and expertise upon the next generation of general practitioners and periodontal specialists. Dr. Huynh-Ba believes that patient care is best performed utilizing a team approach, making Premier Periodontics the perfect location for delivering the excellence his patients deserve. He treats every individual as though they are a member of his family, which is a guiding force in his approach to periodontics and implant dentistry.
Dr. Huynh-Ba earned his doctor of dental surgery degree from the University of Geneva in Switzerland. After practicing as a general dentist for a few years, he went on to undergo specialty training and received certification in the field of periodontics at the University of Bern, also in Switzerland. During this time, Dr. Huynh-Ba completed his Master of Science degree before moving to San Antonio, TX where he acquired his second periodontics degree from the world-renowned program at the University of Texas Health Science Center at San Antonio, TX.
Dedicated to advancing the fields of periodontics and implantology, Dr. Huynh-Ba is an esteemed member of the following professional societies:
American Academy of Periodontology
International Team for Implantology - Fellow
American Dental Association
American Dental Education Association
International Association for Dental Research
Southwest Society of Periodontists
Texas Dental Association
San Antonio District Dental Society
Swiss Society of Periodontology
Certifications and Expertise
As a highly credentialed periodontal and implant specialist, Dr. Huynh-Ba has acquired a vast expanse of expertise throughout the course of his career. He has advanced certifications from a number of prestigious organizations and institutions:
Diplomate of the American Board of Periodontology (Board Certification)
Swiss Board Certification in Periodontology (SSP)
European Federation of Periodontology (EFP) Board Certification in Periodontology
Professor, University of Texas Health Science Center at San Antonio, TX
Dr. Huynh-Ba was born and raised in Switzerland and relocated to Seattle with his wife, Dr. Eirleen Hyun, a few years ago. Growing up near the Alps, he developed a deep love for skiing; however, his greatest passion is playing tennis with his twin brother who still lives in his hometown of Lausanne, Switzerland. During his free time, Dr. Huynh-Ba likes spending time outdoors biking, running, hiking, and playing tennis. He and his wife also share a love for traveling to new places around the world.
Reviews
"Every step of every visit is attended to with exceptional professionalism by kind staff both administrative and medical! Communication is amazing. Nothing is overlooked. Patients feelings are respected and valued as an integral part of the process. This approach is built into the fibre of their practice and shared by every member of their team! When a rare unforseen challenge came up during my procedure, the doctor gave me a full explanation, in easy to understand terms and answered every question until I understood exactly how the procedure would be adjusted to ensure a successful outcome. Couldn't ask for better care!"
K.G.
Google
"After years of dental work and associated anxiety...it had finally come to this. The Periodontist! YIKES!!! To say I was not looking forward to the visit and extraction of the offending tooth is an understatement. I'd had my teeth straightened, whitened, crowned, root canaled and now - as seemingly a last resort we were pulling the one of my precious suckers out! There was a lot of drama in my head about this (I'm too young. I should have brushed better. I have bad genetics...you name it, I thought it). HOWEVER, the staff at Premier Periodontic in Everett could not have been kinder! Dr. Hyun was super caring and sweet, explained the procedure in detail and assured she would stop should there be even the slightest discomfort (and she did when I started to feel a little something and we rebooted the novocaine.) Assistant Lourisa was also very comforting. She and Dr. Hyun joked back and forth but continually checked in with me as to how I was doing. Admittedly - it was not that bad! Tessa, Jenica and Candice were all on hand near by to bring items as needed and help explain post-op procedures and billing. When they discovered an issue in the tooth next to the one in question, they didn;t hesitate to address that situation too. It meant a longer session but also more efficiency for healing. I was the last appt. of the day and was impressed with their commitment to doing the right thing by pulling a second tooth versus scheduling me for another time. I truly appreciated their dedication and willingness to stay an extra HOUR on my behalf! Lourisa even called a couple of days later to see how I was doing and I appreciated the nice touch. So far so good! Thanks to all in the Everett office for providing such solid care!"
L.D.
Google
"TLDR; These folks are AMAZING. For decades, dentists have warned me I would "eventually" need gums grafting. When "eventually" became "now," I could not be more giddy that Dr. Yeh referred me to Dr. Hyun & the Premier team. During the two separate surgeries, Dr. Hyun & Candice OBVIOUSLY have worked a LOT together and have an aMAZing rapport: efficient, skilled, and talented. Everyone on the entire team at Kirkland & Everett (didn't visit other locs) were very nice, and my recovery was FAR, far easier than friends (who had gone through this same surgery, perhaps at other providers?) had predicted! THANKS!"
C.M.
Google
"Premier people are consistently pleasant, good-natured and attentive, and the practice always seems well organized and managed."
J.M.
Google
"My gums are in pretty bad shape I went to the laser treatment and then all the follow-ups and that treated me really good I have super sensitive teeth and gums the pain moves from tooth to tooth it's never in the same place and they're very rare and take special care and I totally appreciate it"
D.T.
Google
Related Posts